KEADILAN ORGANISASIONAL, KEPUASAN KERJA, DAN ORGANIZATIONAL CITIZENSHIP BEHAVIOR: INVESTIGASI EMPIRIS PERAN MEDIASI KEPUASAN KERJA
Keywords:
job satisfaction, organizational justice, organizational citizenship behavior
Abstract
The current research intend to test the effect of organizational justice on Organizational Citizenship Behavior (OCB), as well as to test the mediating role of job satisfaction on the relationship between organizational justice and OCB. Survey methods adopted for getting primary data from the respondents who are the employees of formal organization, both public and private, located in Bengkulu Province. Two-hundred-and-fifty-four respondents are participated in the study. Following Van Dyne et al. (1994), Mediated Regression Analyses employed to test the research hypotheses. The results met the predictions, organizational justice positively affects OCB, job satisfaction mediated the effect of organizational justice on OCB.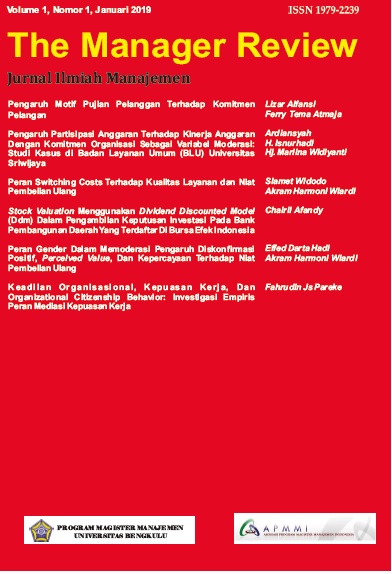 Downloads