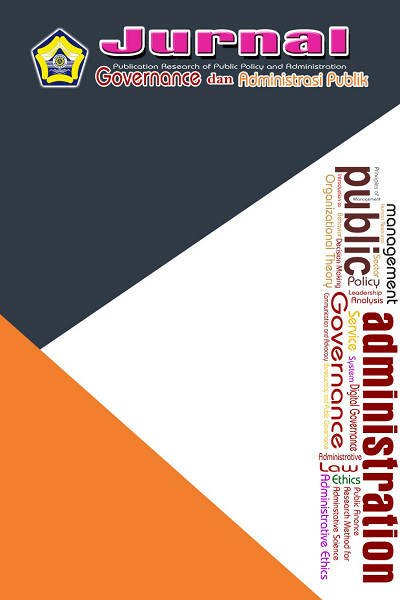 Journal Description

Journal Governance and Administrasi Publik is  research-driven, and peer-reviewed publication aimed at exploring the latest developments in public administration, public policy, and management – translating theory for practice and practice into theory. Journal Governance and Administrasi Publik is a truly global journal in scope, covering developed, emerging and transitional states, education governmental organizations, and all areas of public activity. We welcome theoretical, analytical, quantitative, qualitative, empirical, and practitioner-based, as well as individual country-based, region-based, and especially comparative works. Our target audience is not just scholars, but also policy-makers and practitioners, including aspiring public sector leaders engaged in education and research in the growing global public service, policy, and administration, and governance community. We want to draw on the latest research – whether carried out by scholars or practitioners or indeed collaborations. We aim for – and encourage – the reporting of this research to be as clear and accessible to the widest possible audience while maintaining the necessary rigour and scholarly standards.
Journal Governance and Administrasi Publik will include not just cutting edge research, but also: feature interviews or opinion pieces from leading scholars and policy-makers; a resources section for scholars and practitioners; symposia and debates; and themed issues of topics of special interest. Proposals in all these areas are always welcome.
Peer Review Policy: All research articles in this journal have undergone initial editorial screen and rigorous peer review.