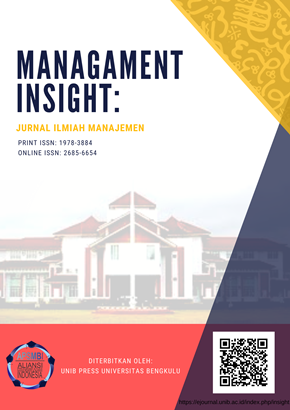 Journal Description
Managament Insight: Jurnal Ilmiah Manajemen is an online journal that is published two times a year. It publishes research papers that give rigorous theoretical and practical insight of business and managament. Managament Insight aims to provide a forum for the dissemination of theory application and research in all areas of business and management, including but are not limited to Financial, Operational Management, Human Resource Management, Marketing, Business Strategy, Decision Science and Decision-making, Strategic Negotiation, Business Risk, Knowledge Management, Human Capital Management, Technology Management, Entrepreneurship, and Others relevant subjects.
It is intended for researchers, students, business practitioners, and entrepreneurs to publish their ideas and experiences, and share their knowledge on business and management issues.
Managament Insight has been accredited by National Journal Accreditation (ARJUNA)  by the Ministry of Research, Technology, and Higher Education, Republic of Indonesia with Grade (Sinta 5) since 2018 to 2022 (Decree No. 28/E/KPT/2019).
Vol. 18 No. 1 (2023): Managament Insight: Jurnal Ilmiah Manajemen
View All Issues