Rumput Laut (Ulva lactuca) sebagai Pakan Substitusi Sapi Bali Sapihan di Musim Kemarau dengan Level Energi yang Berbeda
H. N. Ulu
(1)
, I. G. N. Jelantik
(2)
, H. Sutedjo
(3)
, I M. A. Sudarma
(4
)
,
(1)&nbspProgram Studi Ilmu Peternakan, Program Pasca Sarjana, Universitas Nusa Cendana., Indonesia
(2)&nbspProgram Studi Ilmu Peternakan, Program Pasca Sarjana, Universitas Nusa Cendana., Indonesia
(3)&nbspProgram Studi Ilmu Peternakan, Program Pasca Sarjana, Universitas Nusa Cendana., Indonesia
(4)&nbspProgram Studi Peternakan, Universitas Kristen Wira Wacana Sumba, Indonesia
Abstract
Penelitian dilakukan untuk mengetahui kualitas dan pengaruh rumput laut (Ulva lactuca) sebagai pakan substitusi untuk sapi Bali sapihan di musim kemarau dengan level energi yang berbeda. Penelitian dilakukan dua tahap yaitu perlakuan in vitro untuk mengetahui level ideal pemberian tepung U. lactuca dengan perlakuan RA = hay rumput alam; RAK = RA+konsentrat; RAKU5 =RAK+U. lactuca 5%; RAKU10= RAK+U. lactuca 10%; RAKU15= RAK+U. lactuca 15%; RAKU20= RAK+U. lactuca 20%. Tahap kedua menggunakan rancangan Bujur Sangkar Latin dengan perlakuan R1 = EM 7,3 MJ, R2 = EM 8 MJ dan R3 = EM 8,7 MJ. Hasil penelitian menunjukkan bahwa level ideal pemberian yang dapat digunakan adalah 15% dengan nilai kecernaan bahan kering dan bahan organik tertinggi yaitu 77,79 dan 78,56%.  Tahap kedua yaitu pemberian tepung U. lactuca sebanyak 15% dari total ransum dengan level energy yang berbeda untuk sembilan ekor sapi Bali sapihan dengan tujuan mengetahui tingkat konsumsi dan kecernaan dengan perlakuan EM R1= 7,3 MJ; R= 8 MJ; dan R3= 8,7 MJ. Hasil penelitian menunjukkan bahwa substitusi tepung U. lactuca sebanyak 15% tidak memberikan pengaruh negatif terhadap konsumsi dan kecernaan. Hasil sidik ragam menunjukkan ransum dengan energi 8 MJ memiliki konsumsi dan kecernaan yang sama dengan energi 8,7 MJ namun lebih tinggi dibandingkan dengan ransum  berenergi 7,3 MJ.
Keywords
Tepung U. lactuca; sapi Bali sapihan; level enegi
References
AOAC (1990): Official Methods of Analysis.15th ed. Association of Official Analytical Chemists, Arlington, VA.
Apaydin, G., V. Ayl?kc?1, E. Cengiz1, M. Saydam, N. Küp, E. T?ra?o?lu. 2010. Analysis of Metal Contents of Seaweed (U. lactuca) from Istanbul, Turkey by EDXRF. Turkish Journal of Fisheries and Aquatic Sciences. 10 : 215-220.
Arieli A., Sklan D., Kissil G. 1993. A note on the nutritive value of U. lactuca for ruminants. Animal Production. 57 : 329-331.
Arora, S.P., 1989. Pencernaan Mikroba pada Ruminansia. Gadjah Mada University Press. Yogyakarta.
Becker E.W. 2007. Micro-algae as a source of protein. Biotechnology Advances 2007. 25 : 207-210.
Braden, K.W., Blanton, J.R., Montgomery, J.L. Allen, V.G., Miller M.F., Pond K.R. 2004. Ascophyllum nodosum Suplementation: a pre-harvest intervention for reducing Escherichia coli O157:H7 and Salmonella spp. In: Fedloot Sterrs. J. Food Protect. 67 : 1824-1828.
Burtin, P. (2003). Nutritional value of seaweeds. Electron. J. Environ. Agric. Food Chem. 2 (4) : 498-503.
Chojnacka, k., Agnieszka SAEID, Izabela Michalak. 2012. The possibilities of the application of algal biomass in the agriculture. CHEMIK. 66 (11) : 1235-1248.
Diler I., A.A. Tekinay, D. Guroy, B. Kut, and Murat S. 2007. Effects of U. rigida on the Growth, Feed Intake and Body Composition Of Common Carp, Cyprinus carpio L. Journal of Biological Science. 7 (2) : 305-308.
Fleurence. 1999. Seaweed proteins: biochemical, nutritional aspects and potential uses. Food Science & Technology. 10 : 25-28.
Hind, Z., Arhab R., B. Christelle., B. Hacène, and Beckers Y. 2014. Chemical and biological evaluation of the nutritive value of Algerian green seaweed U. lactuca using in vitro gas production technique for ruminant animals. International Journal of Advanced Research. 2 (4) : 916-925.
Hume, I.D. 1982. Digestion and Protein MicroBalism in a Course Manual in Nutrition and Growth. Australian Universities. Australian Vice Choncellors Committee. Sidney.
Jelantik, I G. N., R. Copland and M. L. Mullik. 2008. Mortality rate of Bali cattle (Bos sondaicus) calves in West Timor, Indonesia. Animal Production in Australia. 27 : 48.
Kumar, V., and P. Kaladharan. 2007. Amino acids in the seaweeds as an alternate source of protein for animal feed. J. Mar. Biol. Ass. India. 49 (1) : 35-40.
Li, L., Yuankui Z., X. Wang, Yang, H., and B. Cao. 2014. Effects of different dietary energy and protein levels and sex on growth performance, carcass characteristics and meat quality of F1 Angus X Chinese Xiangxi yellow cattle. Journal of Animal Science and Biotechnology. 5 : 21-33.
Mullik, M.L. dan Permana, B. 2009. Improving Growth Rate of Bali Cattle Grazing Native Pasture in Wet Season by Supplementing High Quality Forages. JITV. 14 (3) : 192-199.
Mullik, ML, dan IGN Jelantik. 2009. Strategi peningkatan produktivitas sapi Bali pada sistem pemeliharaan ekstensif di daerah lahan kering: pengalaman Nusa Tenggara Timur. Prosiding Seminar Nasional Pengembangan Sapi Bali Berkelanjutan dalam Sistem Peternakan Rakyat. Mataram 28 Oktober 2009. hlm. 39-53.
Nai Ulu, H. 2016. Pemanfaatan Rumput Laut (Ulva lactuca) Sebagai Pakan Suplemen Pada Ternak Sapi Bali, Ongole, dan Silangan Sapi Bali Ongole Sapihan. Thesis. Universitas Nusa Cendana, Kupang.
NRC.(1987). Nutrient Requirements of Dairy Cattle. National Academy Press, Washington, DC.
Ørskov, E.R and Ryle. 1990. Energy nutrition in ruminant. Elsevier applied
science. London.
Pamungkas, D., Mariyono, Antari R. dan Sulistya T.A. 2013. Imbangan pakan serat dengan penguat yang berbeda dalam ransum terhadap tampilan sapi Peranakan Ongole jantan. Seminar Nasional Teknologi Peternakan dan Veteriner. pp : 107-115.
Permana, H., S. Chuzaemi, Marjuki and Mariyono. 2014. Pengaruh Pakan dengan Level Serat Kasar Berbeda Terhadap Konsumsi, Kecernaan dan Karakteristik Vfa Pada Sapi Peranakan Ongole. Artikel Ilmiah.
Raharjo, A.T.W., Wardhana S., dan T. Widiyastuti. 2013. Pengaruh Imbangan Rumput Lapang – Konsentrat Terhadap Kecernaan Bahan Kering dan Bahan Organik Secara In vitro. Jurnal Ilmiah Peternakan 1 (3) : 796-803.
Satpati, G. G. dan Pal R. 2011. Biochemical Composition and Lipid Characterization of Marine Green Alga U. rigida a Nutritional Approach. Journal Algal Biomass Utln. 2 (4) : 10-13.
Siddhanta, A., A.M. Goswami, B.K. Ramavat, K.H. Mody, and O.P. Mairh. 2001. Water Soluble Polysaccharides of Marine Algal Species of U. (U.les, Chlorophyta) of Indian Waters. Indian Journal of Marine Science. 30 : 166-172.
Tilley, J.M.A and R.A. Terry. 1963. A two stage technique for the in vitro digestion of forage. J. British Grassland Society. 18 : 104-111.
Tilman, A.D., H. Hartadi, S. Reksohadiprodjo, S. Prawirokusumo dan S. Lebdosoekojo. 1998. Ilmu Makanan Ternak Dasar. Gadjah Mada University Press. Yogyakarta.
Trono, G.C., Jr. and E.T.G. Fortes. 1998. Philippine Seaweeds. National Book Store Philippines.
Van Soest, P.J. 1994. Nutrition Ecology of The Ruminant. 2nd edition. Cornell University Press. New York.
Ventura M.R., Castañón J.I.R. 1998. The nutritive value of seaweed (U. lactuca) for goats. Small Ruminant Research. 29 : 325-327.
Widyaningrum, Y., Pamungkas D, Kote M, Mariyono. 2013. Pertumbuhan Sapi Bali Jantan Muda Pada Agroekosistem Lahan Kering Iklim Kering Nusa Tenggara Timur. Jurnal Ilmu-Ilmu Peternakan. 24 (2) : 8-19.
Widyobroto, B. P., S. Reksohadiprojo, S. P. Sasmito Budi dan Ali Agus. 2007. Penggunaan Protein Pakan Terproteksi (Undegraded Protein) untuk Meningkatkan Produktivitas Sapi Perah di Indonesia. Laporan Penelitian Fakultas Peternakan Universitas Gadjah Mada, Yogyakarta.
DOI:
https://doi.org/10.31186/jspi.id.16.1.17-25
Article Metrics
Abstract Views : 0 times
PDF Downloaded : 0 times
Refbacks
There are currently no refbacks.

This work is licensed under a
Creative Commons Attribution-ShareAlike 4.0 International License
.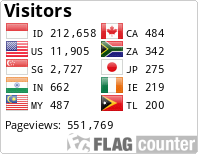 Editorial Office :
Gedung Laboratorium Jurusan Peternakan Lantai 2, Fakultas Pertanian Universitas Bengkulu
Jalan W.R. Supratman, Kandang Limun, Bengkulu, 38371
Email : jspi@unib.ac.id, jsainpet@gmail.com