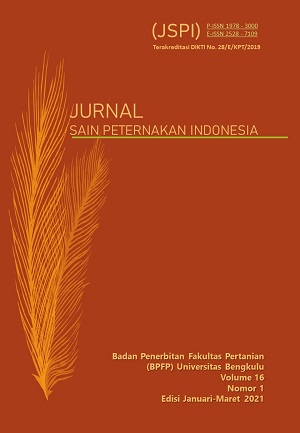 Journal Description
Jurnal Sain Peternakan Indonesia (JSPI) pISSN 1978 - 3000 and eISSN 2528 - 7109 is the official scientific journal published by Badan Penerbitan Fakultas Pertanian (BPFP), Fakultas Pertanian Universitas Bengkulu (Publishing House of Faculty of Agriculture, University of Bengkulu), as its contribution to the development of Animal Science published in English which contains the results of research, / literature review, field case or idea in the field of animal husbandry.
JSPI was first published in 2006 as much as two times in one year i.e. January-June and July-December editions. In 2017, JSPI published 4 Issues in one volume a year in March, June, September, and December. Special editions in English can be published if necessary. The Editorial received a paper in the field of animal husbandry that has not been published. 
Since May 24, 2019, JSPI has been indexed in the Directory of Open Access Journals (DOAJ).
JSPI has been accredited by National Journal Accreditation (ARJUNA)  by the Ministry of Research, Technology, and Higher Education, the Republic of Indonesia with Grade (Sinta 3) from 2019 to 2023 (Decree No. 28/E/KPT/2019).
2022-07-26
Call for articles for Volume 18, No.3 July-September  2023 (Submission deadline: 15 August 2023)
Vol. 18 No. 3 (2023): Article In Press
Published: September 26, 2023
View All Issues