Organoleptik Ayam Broiler Melalui Penggunaan Tepung Krokot (Portulaca oleracea L) yang Disubtitusikan dalam Ransum Komersial
M. E. Manafe
(1
)
, M. L. Ressie
(2)
,
(1)&nbspNational Animal Husbandry Training Centre Kupang, Indonesia
(2)&nbspBalai Besar Pelatihan Peternakan Kupang, Nusa Tenggara Timur, Indonesia
Abstract
Penelitian ini dengan tujuan mengetahui pengaruh dan level penggunaan tepung krokot (Portulaca oleracea L) dalam ransum terhadap warna, aroma dan cita rasa daging ayam broiler, telah dilakukan di kandang ayam Balai Besar Pelatihan Peternakan Kupang. Rancangan yang digunakan adalah Rancangan Acak Lengkap Berblok (RAL B) yang terdiri dari 4 perlakuan, 5 blok dan 5 ulangan dengan masing-masing ulangan sebanyak 5 ekor sehingga total ayam adalah 100 ekor. Perlakuan tersebut yaitu KR0 = ransum komersial tanpa tepung krokot, KR5 = ransum komersial yang mengandung 5% tepung krokot, KR10 = ransum komersial yang mengandung 10% tepung krokot dan KR15 = ransum komersial yang mengandung 15% tepung krokot. Parameter yang diukur adalah warna, aroma dan cita rasa daging. Data yang diperoleh dianalisis menggunakan Analysis of Variance (ANOVA). Hasil penelitian menunjukkan bahwa penggunaan tepung krokot dalam ransum berpengaruh terhadap cita rasa daging tetapi tidak berpengaruh terhadap warna dan aroma daging. Disimpulkan bahwa penggunaan krokot dalam ransum komersial ayam broiler sampai dengan level 15% dapat dimanfaatkan untuk meningkatkan organoleptik daging ayam broiler.
Keywords
Broiler; puslane flour; organoleptic
References
Amerine, M. A., R.M. Pangborn dan E. B. Roessler. 1965. Principles of Sensory Evaluation of Food. Academic Press, New York.
Atmomarsono, U. 2004. Upaya Menghasilkan Daging Broiler Aman dan Sehat. Pidato Pengukuhan Jabatan Guru Besar. Fakultas Peternakan Universitas Diponegoro.
Bou, R., F. Guardiola, A. C. Barroeta, & R. Codony. 2005. Effect of dietary fat sources and zinc and selenium supplements on the composition and consumer acceptability of chicken meat. Poultry Science 84:1129-1140.
Evaniarini, H., Nurliyani, Indratiningsih, & P. Hastuti. 2016. Kestabilan emulsi dan karakteristik sensoris low fat mayonnaise dengan menggunakan kefir sebagai emulsifier replacer. Jurnal Ilmu dan Teknologi Hasil Ternak 11(2):53-59.
Forrest, J. C., Aberle, E. D., Hendrick, H. B., Judge, M. D., Merkel, R. A. 1975. Principles of Meat Science. W. H. Freeman and Company. San Fransisco.
Goldberg, E. M., N. Gakhar, D. Ryland, M. Aliani, & R.A. Gibson. 2012. Fatty acid profile and sensory characteristics of table eggs from laying hens fed hempseed and hempseed oil. Journal of Food Science 77(4):153-160.
Irawan, D., P. Hariyadi, & H. Wijaya. 2003. The potency of krokot as functional food ingredients. Indonesian Food and Nutrition Progress 10(1):1-12.
Kartikasari, L.R., B.S. Hertanto, I. Santoso dan A.M.P. Nuhriawangsa. 2018. Kualitas fisik daging ayam broiler yang diberi pakan berbasis jagung dan kedelai dengan suplementasi tepung purslane (Poleracea). Jurnal Teknologi Pangan 12.
Kartikasari, L. R., R. J. Hughes, M. S. Geier, S. E. P. Bastian, M. Makrides, & R. A. Gibson. 2012. Comparison of omega-3 levels in two strains of broilers and layers fed high alpha linolenic acid diets. In: Proceedings of the World's Poultry Science Association, the 23rd Annual Australian Poultry Science Symposium. Sydney, New South Wales. pp. 237-240.
Mullik M. L., Henuk, Y. L., & Dato T. O. D., 2015. Inklusi Tepung Krokot (Portulaca oleraceae L). Dalam Ransum Ayam Broiler Untuk Produksi Daging Rendah Kolesterol dan Kaya Anti-oksidan. Laporan Penelitian Program Studi Ilmu Peternakan Program Pasca Sarjana Universitas Nusa Cendana Kupang.
Rashed A. N., Afifi F. U., Shaedah. M., 2004. Investigation Of The Aktive Constituenst of Portulaca Oleracea L. (Portulaceae) Growing In Jordan. Pakistan Journal Of Pharmaceutical Sciences. 17 : 37 – 45.
Rashed, S., U. Akhter, S. Manohar, & Z. Sajjad. 2004. Food aid distribution in Bangladesh, FCND briefs 173, International Food Policy Research Institute (IFPRI).
Rowghani, E., M. Arab, S. Nazifi, & Z. Bakhtiari. 2007. Effect of canola oil on cholesterol and fatty acid composition of egg-yolk of laying hens. Journal Poultry Science 6(2):111-114.
Soeparno, 1994. Komposisi Tubuh dan Evaluasi Daging Dada sebagai Pedoman Penilaian Kualitas Produk Ayam Kampung Jantan. Buletin Peternakan Vol. 16. Fakultas Peternakan Universitas Gajah Mada, Yogyakarta.
Soeparno, 2005. Ilmu dan Teknologi Daging. Gajah Mada University Press, Yogyakarta.
Steel, R. G. D. and J. W. Torrie. 1993. Prinsip dan Prosedur Statistika : Suatu Pendekatan Biometrik. Terjemahan : B. Sumantri. PT. Gramedia Pustaka Utama, Jakarta.
Suherman, D. 1988. Cara Pemasakan terhadap Rasa Daging Ayam Broiler. Majalah Poultry Indonesia 104: 26-27.
Syahruddin, E. 2000. Pengaruh Berbagai Tingkatan Serat Kasar dalam Ransum Terhadap Kandungan Kolesterol dan Organ Pencernaan Ayam Broiler. Jurnal Peternakan dan Lingkungan. 6 (2): 26-30
Tulanggalu, W. M., H. Sutedjo, and G. Maranatha. 2017. Pengaruh Penambahan Tepung Krokot (Portulaca oleracea L) Dalam Ransum Terhadap Kualitas Fisik Daging Ayam Broiler. Jurnal Nukleus Peternakan. 4: 15-21.
Uddin, M. K., A. S. Juraimi, M. S Hossain, M. A. U. Nahar, M. E. Ali, & M.M. Rahman. 2014. Purslane weed (Portulaca oleracea): a prospective plant source of nutrition, omega-3 fatty acid and antioxidant attributes. Scientific World Journal 14(1):1-6.
DOI:
https://doi.org/10.31186/jspi.id.16.1.68-73
Article Metrics
Abstract Views : 0 times
PDF Downloaded : 0 times
Refbacks
There are currently no refbacks.

This work is licensed under a
Creative Commons Attribution-ShareAlike 4.0 International License
.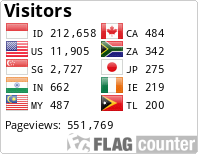 Editorial Office :
Gedung Laboratorium Jurusan Peternakan Lantai 2, Fakultas Pertanian Universitas Bengkulu
Jalan W.R. Supratman, Kandang Limun, Bengkulu, 38371
Email : jspi@unib.ac.id, jsainpet@gmail.com