Analisis Usaha Pemberian Bakteri Asam Laktat (BAL) pada Ayam Pedaging terhadap Persentase Berat Karkas
R. F. Syam
(1
)
, K. Soepranianondo
(2)
, W. P. Lokapirnasari
(3)
, Soeharsono Soeharsono
(4)
, S. Hidanah
(5)
, Ardianto Ardianto
(6)
,
(1)&nbspProgram Magister, Agribisnis Veteriner, Fakultas Kedokteran Hewan, Universitas Airlangga, Indonesia
(2)&nbspDepartemen Peternakan, Fakultas Kedokteran Hewan, Universitas Airlangga, Indonesia
(3)&nbspDepartemen Peternakan, Fakultas Kedokteran Hewan, Universitas Airlangga, Indonesia
(4)&nbspDepartemen Anatomi, Fakultas Kedokteran Hewan, Universitas Airlangga, Indonesia
(5)&nbspDepartemen Peternakan, Fakultas Kedokteran Hewan, Universitas Airlangga, Indonesia
(6)&nbspDepartemen Akuntansi, Fakultas Ekonomi dan Bisnis, Universitas Airlangga Kampus C, Jl. Mulyorejo, Kota Surabaya, Jawa Timur, Indonesia, Indonesia
Abstract
Peternakan merupakan subsektor pertanian yang memiliki peran penting dalam pemenuhan kebutuhan protein hewani yang semakin meningkat. Bakteri, virus, parasit, jamur, lingkungan dan kekurangan nutrisi merupakan penyebab rentannya peternakan ayam pedaging terserang penyakit. Penggunaan antibiotik merupakan salah satu cara pengobatan dan pencegahan penyakit, namun pemberian antibiotik yang tidak tepat dosis dapat menimbulkan residu antibiotik. Tujuan penelitian ini adalah untuk mengetahui analisis usaha ayam pedaging yang diberi bakteri asam laktat terhadap peningkatan persentase berat karkas. Terdiri dari 300 ekor DOC yang diacak kedalam tiga kelompok perlakuan, masing-masing terdiri dari 100 ekor. Perlakuan terdiri dari P0 (Pakan komersial dan air minum), P1 (Pakan komersial dan air minum + BAL 106 CFU/ml), dan P3 (pakan komersial dan air minum + BAL 108 CFU/ml). Hasil penelitian menunjukkan bahwa pemberian BAL pada air minum belum mampu meningkatkan persentase berat karkas dan menurunkan persentase lemak abdominal, namun layak untuk dilakukan karena masih memberikan keuntungan.
Keywords
Analisis usaha, BAL, ayam pedaging, karkas, lemak abdominal
References
Akhadiarto, S. 2010. Pengaruh Pemberian Probiotik Temban, Biovet dan Biolacta Terhadap Persentase Karkas, Bobot Lemak Abdomen dan Organ Dalam Ayam Broiler. Jurnal Sains dan Teknologi Indonesia. 12(1): 53-59.
Atela, J. A., V. Mlambo and C.M. Mnisi. 2018. A multi-strain Probiotic Administered Via Drinking Water Enhances Feed Conversion Efficiency and Meat Quality Traits in Indigenous Chickens. Animal Nutrition XXX: 1-6.
Bahri, S., E. Masbulan, A. Kusumaningsih. 2005. Proses Produksi sebagai Faktor Penting dalam Menghasilkan Produk Ternak yang Aman untuk Manusia. Jurnal Litbang Pertanian 24 (1).
Dewi, D.R.R., S.B. Wibowo dan N.W. Sulistyowati. 2017. Analisis Hubungan Margin Kontribusi Sebagai Alat Bantu Perencanaan Laba Pada Industri Gamelan Margo Laras Kauman Magetan Periode 2014-2016. The 9th FIPA: Forum Ilmiah Pendidikan Akuntansi. Universitas PGRI. Madiun.
Etikaningrum dan S. Iwantoro. 2017. Kajian Residu Antibiotika pada Produk Ternak Unggas di Indonesia. Jurnal Ilmu Produksi dan Teknologi Hasil Peternakan. 5 (1): 29-33.
Garrison, R.H., E.W. Noreen, P.C. Brewer, N.S. Cheng and K.C.K. Yuen. 2015. Managerial Accounting. Second Edition. MC Graw Hill Education. 2 Penn Plaza. New York.
Hafsan, G. Bayu, Ar. S. Hidayat, L. Agustina, A. Natsir dan A. Ahmad. 2018. Bobot Karkas dan Persentase Organ Dalam Broiler dengan Supleentasi Fitase dari Bukholderia sp. Strain HF.7. Prosiding Seminar Nasional Biologi dan Pembelajarannya. Inovasi Pembelajaran dan Penelitian Biologi Berbasis Potensi Alam.
Ikasari, A. T. 2017. Pengaruh Pemberian Probiotik Terhadap Persentase Karkas dan Lemak Karkas Pada Broiler. Fakultas Sains dan Teknologi. Universitas Islam Negeri Alauddin. Makassar.
Jaelani, A., A. Gunawan dan S. Syaifuddin. 2015. Pengaruh Penambahan Probiotik Storbio Dalam Ransum Terhadap Bobot Potong, Persentase Karkas dan Persentase Lemak Abdominal Ayam Broiler. Ziraa'ah. Vol. 39. No. 2: 85-94.
Kusriningrum, R.S. 2008. Perancangan Percobaan. Airlangga University Press. Surabaya.
Li, C.-Y., Lu, J.-J., Wu, C.-P., and Lien, T.-F. 2014. Effects of Probiotics and Bremelain Fermented Soybean Meal Replacing Fish Meal On Growth Performance, Nutrient Retention and Carcass Traits of Broiler. Livestock Science 163: 94-101.
Nurdin, H.S. 2010. Analisis Penerimaan Bersih Usaha Tanaman Pada Petani Nenas di Desa Palaran Samarinda. Jurnal Eksis. Vol. 6. No. 1: 1267-1266.
Olnood, C.G., S.S.M. Beski., P.A. Iji and M. Choct. 2015. Delivery Routes for Probiotics: Effects on Broiler Performance Intestinal Morphology and Gut Microflora. Animal Nutrition 1: 192-202.
Pardede, S. 2015. Analisis Biaya dan Keuntungan Usaha Peternakan Babi Rakyat di Desa Cigugur, Kecamatan Cigugur, Kabupaten Kuningan Jawa Barat. Universitas Padjajaran. Bandung.
Patterson, J.A. and Burkholder, K.M. 2003. Application of Prebiotics and Probiotics in Poutry Production. Poultry Science 82: 627-631.
Salam, S., A. Fatahilah, D. Sunarti dan Isroli. 2013. Berat Karkas dan Lemak Abdominal Ayam Broiler yang diberi Tepung Jintan HItam (Nigella sativa) dalam Ransum selama Musim Panas. Sains Peternakan. Vol. 11 (2): 84-90.
Salarmoni, M. and M.H. Fooladi. 2011. Efficacy of Lactobacillus acidophilus as Probiotic to Improve Broiler Chicks Performance. J. Agr. Sci. Tech. Vol. 13: 165-172.
Shen, X., and Yi, Xueqin Ni, D. Zeng, B. Jing, M. Lei, Z. Bian, y. Zeng Tao Li and J. Xin. 2014. Effects of Lactobacillus plantarum on Production Performance, Immune Characterisctics, Antioxidant Status and Intestinal Microflora or Bursin Ummunized Broilers. Canadian Journal of Microbiology. Vol. 60. No. 4: 193-202.
Soomro, A.H., T. Masud and K. Anwaar. 2002. Role of Lactic Acid Bacteria (LAB) in Food Preservation and Human Health a Review. Pakistan Journal of Nutrition. 1(1): 20-24.
Tamalluddin, F. 2012. Ayam Broiler, 22 Hari Panen Lebih Untung. Penebar Swadaya. Jakarta.
Tarigan, R., O. Sjofjan dan I. H. Djunaidi. 2013. Pengaruh Penambahan Probiotik Selulolitik (Cellulomonas sp) Dalam Pakan Terhadap Kualitas Karkas, Lemak Abdominal dan Berat Organ Dalam Ayam Pedaging. Universitas Brawijaya. Malang.
Quigley, E.M.M. 2017. Bifidobacteria as Probiotic Organisms: An Introduction. The Microbiota in Gastrointestinal Pathophysiology. Chapter 12. United States.
Yahya, D.B. 2018. Penerapan Cost Volume Profit Main Product dan Byproduct Sebagai Alat Bantu Perencanaan Laba Pada Peternakan Ayam Slorok Farm. Fakultas Ekonomi. Universitas Negeri Surabaya. Surabaya.
Yuniastuti, A. 2014. Buku Monograf: Probiotik (Dalam Perpektif Kesehatan). Unnes Press. Semarang.
Zurmiati, M.E.M, M.H. Abbas dan Wizna. 2014. Aplikasi Probiotik Untuk Ternak Itik. Jurnal Peternakan Indonesia. Vol. 16 (2): 134-144.
DOI:
https://doi.org/10.31186/jspi.id.14.4.338-344
Article Metrics
Abstract Views : 0 times
PDF (Bahasa Indonesia) Downloaded : 0 times
Refbacks
There are currently no refbacks.

This work is licensed under a
Creative Commons Attribution-ShareAlike 4.0 International License
.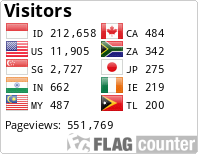 Editorial Office :
Gedung Laboratorium Jurusan Peternakan Lantai 2, Fakultas Pertanian Universitas Bengkulu
Jalan W.R. Supratman, Kandang Limun, Bengkulu, 38371
Email : jspi@unib.ac.id, jsainpet@gmail.com