Evaluasi Keterampilan Peternak dalam Menerapkan Aspek Teknis Pemeliharaan Sapi Potong di Kecamatan Koto Besar Kabupaten Dharmasraya
Yendraliza Yendraliza
(1
)
, T. Adelina
(2)
, Amdes Amdes
(3)
,
(1)&nbspUniversitas Islam Negeri Sultan Syarif Kasim Riau, Indonesia
(2)&nbspUniversitas Islam Negeri Sultan Syarif Kasim Riau,
(3)&nbspUniversitas Islam Negeri Sultan Syarif Kasim Riau,
Abstract
Sistem pembibitan sapi potong yang ada di Kecamatan Koto Besar di Kabupaten Dharmasraya masih merupakan jenis peternakan skala kecil dengan sistem pemeliharaan traditional. Tujuan dari penelitian ini adalah untuk mengetahui penerapan aspek teknis sesuai dengan Permentan NO. 46 / Permentan / PK.210 / 8/2015, struktur populasi dan peningkatan alami. Penelitian ini dilakukan pada bulan Agustus hingga September 2019 di lokasi pertanian rakyat di Kecamatan Koto Besar, Kabupaten Dharmasraya. Metode yang digunakan dalam penelitian ini adalah metode survei yang diperoleh dari 38 peternak dengan 182 sapi Bali. Variabel dalam penelitian ini adalah profil responden, aspek pemuliaan, perumahan, aspek pakan dan struktur populasi pada pemeliharaan ternak. Hasil penelitian ini menunjukkan bahwa peternak berada dalam usia produktif dengan pendidikan (SD-PT) dan pengalaman yang baik (8 tahun). 60,53% peternak tidak pernah menerima pelatihan teknologi peternakan. Aspek teknis pemeliharaan baik untuk aspek pemuliaan 91,45%, dan aspek perumahan 90,06%, sedangkan aspek pemberian makan 50,00% kategori kurang. Struktur populasi didominasi oleh sapi dengan peningkatan alami (NI) 21,47%. Kesimpulan dalam penelitian ini penerapan aspek teknis yang meliputi aspek pemuliaan, perumahan yang baik kecuali aspek pakan. Struktur populasi 1: 4 dengan peningkatan alami 21,47%.
Keywords
aspek perkawinan; aspek pakan; aspek perkandangan
References
Afriani, T., M.P. Agusta, Yurnalis, F. Arlina dan D.E. Putra. 2019. Estimasi Dinamika Populasi dan Pembibitan Sapi Potong di Kecamatan Bayang Kabupaten Pesisir
Selatan. Jurnal Peternakan Indonesia 21(2): 130–142. doi: 10.25077/jpi.21.2.130-142.2019.
Cahyawati, A. E. 2015. Analisis Efisiensi Teknis, Ketrampilan Teknis Beternak dan Pendapatan pada Usaha Peternakan Sapi Perah Rakyat di Kecamatan Lembang. Thesis, IPB Bogor.
Costa, J.H.C., M.J. Hötzel, C. Longo, L.F. Balcão. 2013. A survey of management practices that influence production and welfare of dairy cattle on family farms in southern Brazil. Journal of Dairy Science 96(1): 307–317. doi: 10.3168/jds.2012-5906.
Ediset and E. Heriyanto. 2012. Analisis Potensi Wilayah Dharmasraya untuk Pengembangan Sapi Potong dan Kaitannya dengan Pemberdayaan Ekonomi Masyarakat. Jurnal Peternakan Indonesia 14(3): 425–432. doi: 10.1017/CBO9781107415324.004.
Fauziyah, D., R. Nurmalina and B. Burhanuddin. 2017. Pengaruh Karakteristik Peternak Melalui Kompetensi Peternak terhadap Kinerja Usaha Ternak Sapi Potong di Kabupaten Bandung. Jurnal Agribisnis Indonesia 3(2): 83–96. doi: 10.29244/jai.2015.3.2.83-96.
Huzzey, J., R. Grant and T. Overton. 2012. Short communication: Relationship between competitive success during displacements at an overstocked feed bunk and measures of physiology and behavior in Holstein dairy cattle. Journal of Dairy Science 95(8): 4434–4441. doi: 10.3168/jds.2011-5038.
Jensen, M. and L. Larsen. 2014. Effects of level of social contact on dairy calf behavior and health. Journal of Dairy Science 97(8): 5035–5044. doi: 10.3168/jds.2013-7311.
Kusuma, S. B., N. Ngadiyono dan S. Sumadi. 2017. Estimasi Dinamika Populasi Dan Penampilan Reproduksi Sapi Peranakan Ongole Di Kabupaten Kebumen Provinsi Jawa Tengah. Buletin Peternakan 41(3): 230–242. doi: 10.21059/buletinpeternak.v41i3.13618.
Marsuma, K., S. Kuswaryan dan D. Budinuryanto. 2016. Pengaruh Penerapan Asas Kesejahteraan Ternak Terhadap Nilai Penjualan Domba. Jurnal Unpad, 1–12.
Maryam, M. B. Paly dan Astati. 2016. Analisis faktor-faktor yang mempengaruhi penentu pendapatan usaha peternakan sapi potong (studi kasus Desa Otting Kabupaten Bone). Jurnal Ilmu dan Industri Peternakan 3(1): 79–101.
Permana, A., A. H. Daulay dan I. Sembiring. 2014. Analisis Profil Peternak Terhadap Pendapatan Peternak Sapi Potong di Kecamatan Pancur Batu Kabupaten Deli Serdang. Jurnal Peternakan Integratif 2(1): 1–12.
Putra, D. E., Sumadi dan T. Hartatik. 2015. Estimasi Output Sapi Potong di Kabupaten Pesisir Selatan Provinsi Sumatera Barat. Jurnal Peternakan Indonesia 17(2): 105–115.
Saherman, I., D. Febrina dan D. Hidayati. 2007. Penerapan Aspek Teknis Pemeliharaan Sapi Potong di Desa Bagan Sinembah Kecamatan Bagan Sinembah Kabupaten Rokan Hilir. Jurnal Peternakan 4(2): 57–64. doi: 10.24014/jupet.v4i2.272.
Samberi, K., Y. N. Ngadiyono dan Sumadi. 2010. Estimasi dinamika populasi dan produktivitas sapi Bali di Kabupaten Kepulauan Yapen, Propinsi Papua. Buletin Peternakan 34 (3): 169–177.
Sari, E. M., M. Abdullah dan S. Sulaiman. 2015. Kajian Aspek Teknis Pemeliharaan Kerbau Lokal Di Kabupaten Gayo Lues. Jurnal Agripet 15(1): 57. doi: 10.17969/agripet.v15i1.2301.
Simamora, T., A. M. Fuah, dan A. Atabany. 2015. Evaluasi Aspek Teknis Peternakan Sapi Perah Rakyat di Kabupaten Karo Sumatera Utara. Jurnal Ilmu Produksi dan Teknologi Hasil Peternakan 3(1): 52–58. doi: 10.29244/jipthp.3.1.52-58.
Sumadi, A. Fathoni, S. B. Kusuma, D. N. H. Hariyono. 2017. The Estimation of Natural Increase , Population Dinamics and Output of Beff Cattle in Klaten Central of Java. in The 7th International Seminar on Tropical Animal Production, Contribution of Livestock Production on Food Sovereignty in Tropical Countries September 12-14, Yogyakarta, Indonesia, pp. 760–764.
Widjastuti, T. W. Tanwiriah, Abun, D. Garrnida. 2017. Peningkatan Keterampilan Budi Daya Ternak Ayam Melalui Penerapan Teknologi Peternakan Di Desa Gagasari Dan Kalimaro Kabupaten Cirebon. Ilmu Pengabdian Kepada Masyarakat, 1(4): 266–270.
DOI:
https://doi.org/10.31186/jspi.id.15.4.398-405
Article Metrics
Abstract Views : 0 times
PDF Downloaded : 0 times
Refbacks
There are currently no refbacks.

This work is licensed under a
Creative Commons Attribution-ShareAlike 4.0 International License
.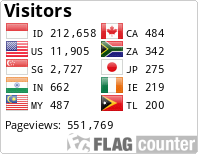 Editorial Office :
Gedung Laboratorium Jurusan Peternakan Lantai 2, Fakultas Pertanian Universitas Bengkulu
Jalan W.R. Supratman, Kandang Limun, Bengkulu, 38371
Email : jspi@unib.ac.id, jsainpet@gmail.com