Model Pengembangan Usaha Ternak Sapi Perah Berdasarkan Faktor Aksesibilitas Sumber Daya
Abstract
Penelitian ini bertujuan untuk menemukan model pengembangan usaha ternak sapi perah berdasarkan aksesibilitas peternak terhadap sumber daya. Penelitian dilakukan pada Kelompok Usaha Bersama (KUB) Tirtasari Kresna Gemilang Kecamatan Pujon, Kabupaten Malang, Provinsi Jawa Timur. Penelitian dilaksanakan pada bulan Oktober – Desember 2018. Variabel penelitian terdiri dari sumber daya ekonomi (X1), sumber daya lingkungan (X2), sumber daya sosial (X3), SDM peternak (Z1), dan pengembangan usaha ternak sapi perah (Y1). Responden adalah semua peternak sapi perah anggota KUB, yaitu sebanyak 174 peternak sapi perah. Analisis data menggunakan metode SEM (Structural Equation Model) dengan SmartPLS 2.0. Hasil penelitian menunjukkan bahwa aksesibilitas peternak terhadap sumber daya berpengaruh secara langsung terhadap pengembangan usaha ternak sapi perah sebesar 10.8%, sedangkan aksesibilitas peternak terhadap sumber daya berpengaruh secara tidak langsung melalui SDM peternak terhadap pengembangan usaha ternak sapi perah sebesar 34.1%. Kesimpulan dari penelitian menunjukkan bahwa aksesibilitas peternak terhadap sumber daya berperan penting terhadap pengembangan usaha ternak.
Kata kunci: sumber daya, ekonomi, lingkungan, sosial, dan SDM.
References
Anatanyu, S. 2011. Kelembagaan Petani: Peran dan Strategi Pengembangan Kapasitasnya. Jurnal SEPA. 7 (2): 102-109.
Bamualim, A. M., Madarisa, F., Pendra, Y. Mawardi, E., dan Asmak. 2015. Jurnal Peternakan Indonesia. 17 (2): 83-93.
Diwyanto, K., Priyanti, A., dan Saptati, R. A. 2007. Prospek Pengembangan Usaha Peternakan Pola Integrasi. Sains Peternakan. 5 (2): 26-33.
Ellitan, L. 2003. Peran Sumber Daya dalam Meningkatkan Pengaruh Teknologi terhadap Produktivitas. Jurnal Manajemen & Kewirausahaan. 5 (2): 155-170.
Kusnadi, U. 2008. Inovasi Teknologi Peternakan dalam Sistem Integrasi Tanaman-Ternak untuk Menunjang Swasembada Daging Sapi. Pengembangan Inovasi Pertanian. 1 (3): 189-205.
Limawandoyo, E. A. dan Simanjutak, A. 2013. Pengelolaan dan Pengembangan Sumber Daya Manusia pada PT Aneka Sejahtera Engineering. Jurnal Manajemen Bisnis Petra. 1 (2): 1-12.
Nur, P. 2004. Model Kelembagaan Pertanian dalam Rangka Mendukung Optimasi Produksi Padi. Falsafah Sains. 22 (6): 1-6.
Prihantoro, A. 2012. Peningkatan Kinerja Sumber Daya Manusia Melalui Motivasi, Disiplin, Lingkungan Kerja, dan Komitmen. Value Added. 8 (2): 78-98.
Riyadi. 2012. Faktor Sumber Daya Manusia yang Meningkatkan Kinerja Karyawan dan Perusahaan di Kalbar. Jurnal Eksos. 8 (2): 114-119.
Riszqina, Isbandi, Rianto, E., and Santoso, S. I. 2014. The Analysis of Factors Affecting The Performance in Benefits of Karapan (Racing) Cattle Business in Madura Island, East Java. JITAA. 39 (1): 65-72.
Roessali, W., Masyhuri, S. Nurtini, Darwanto, D. H. 2011. Factors Influencing Farmers Decision to Increase Beef Cattle Business Scale in Central Java Province. JITAA. 36 (1): 27-35.
Rustandi, Y. dan Suhadji, R. 2017. Keragaan Evaluasi Fungsi Kelembagaan Kelompok Tani di Kecamatan Papar Kabupaten Kediri Jawa Timur. Agrica Ekstensia. 11 (2): 55-60.
Susilowati, Y., Hutagaol, P., Pasaribu, P., dan Djohar, S. 2013. Jurnal Manajemen Teknologi. Pengaruh Aspek Pengelolaan Sumber Daya Manusia terhadap Peningkatan Kinerja Organisasi di Industri Otomotif di Indonesia. Jurnal Manajemen Teknologi. 12 (1) : 1-19.
Syukur, S. H., Fanani, Z., Nugroho, B. A., and Antara, M. 2014. Empowerment of Livestock Farmer through Graduate Program to Build a Village on Dynamics of Beef Cattle Farmer Groups Level of Gaduhan Model (A Case Study in the District of Toli-toli, Central Sulawesi. Journal of Natural Science Research. 4 (2): 107-112.
Wahyuni, D. 2017. Penguatan Kelembagaan Petani Menuju Kesejahteraan Petani. Jurnal Kesejahteraan Sosial. 10 (17) : 9-12.
Wiyono, G. 2011. Merancang Penelitian Bisnis dengan Alat Analisis SPSS 17.0 & Smart PLS 2.0. Penerbit: Unit Penerbit dan Percetakan STIM YKPN Yogyakarta.
Yudiarini, N. 2014. Perubahan Pertanian Subsisten Tradisional ke Pertanian Modern. DwijenAGRO. 2 (1): 1-8.
DOI:
https://doi.org/10.31186/jspi.id.14.1.61-69
Article Metrics
Abstract view : 0 times
PDF - 0 times
Refbacks
There are currently no refbacks.

This work is licensed under a
Creative Commons Attribution-ShareAlike 4.0 International License
.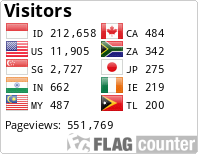 Editorial Office :
Gedung Laboratorium Jurusan Peternakan Lantai 2, Fakultas Pertanian Universitas Bengkulu
Jalan W.R. Supratman, Kandang Limun, Bengkulu, 38371
Email : jspi@unib.ac.id, jsainpet@gmail.com