Tiga Pilar Usaha Ternak : Breeding, Feeding, and Management
Amam Amam
(1
)
, P. A. Harsita
(2)
,
(1)&nbspPS Peternakan, Fakultas Pertanian, Universitas Jember, Indonesia
(2)&nbspPS Agribisnis, Fakultas Pertanian, Universitas Jember, Indonesia,
Abstract
Usaha ternak tidak bias terlepas dari konsep "segi tiga emas" yaitu breeding, feeding, and management. Penelitian ini bertujuan untuk menguji asumsi klasik terhadap konsep "segi tiga emas" usaha ternak melalui pendekatan expost facto research, sehingga dapat memperbarui tinjauan literatur. Penelitian dilakukan pada usaha ternak sapi perah di Kawasan Peternakan Sapi Perah Nasional (KPSPN) Kabupaten Malang, JawaTimur. Responden adalah semua peternak sapi perah yang tergabung di dalam kelembagaan peternak KUB (Kelompok Usaha Bersama) Tirtasari Kresna Gemilang yang beranggotakan 174 orang. Data dianalisis menggunakan metode PLS (Partial Least Square) dengan Smart PLS. Hasil penelitian menunjukkan bahwa usaha ternak sapi perah dipengaruhi oleh breeding, feeding, and management sebagai pilar utama sebesar 86%, sedangkan sisanya sebesar 14% dipengaruhi oleh faktor lain yang tidak terdapat di dalam model. Kesimpulan dari penelitian yaitu terdapat tiga pilar utama usaha ternak sapi perah, yaitu breeding, feeding, and management.
Keywords
breeding, feeding, management, usaha ternak, dan sapi perah.
References
Agustono, B., Lamid, M., Ma'ruf, A., dan Purnama, M. T. E. 2017. Identifikasi Limbah Pertanian dan Perkebunan sebagai Bahan Pakan Inkonvensional di Banyuwangi. Jurnal Medik Veteriner. 1 (1): 12-22.
Amam dan Harsita, P. A. 2019. Efek Domino Performa Kelembagaan, Aspek Risiko, dan Pengembangan Usaha terhadap SDM Peternak Sapi Perah. Sains Peternakan. 17 (1): 5-11.
Amam, Jadmiko, M. W., Harsita, P. A., dan Poerwoko, M. S. 2019. Model Pengembangan Usaha Ternak Sapi Perah Berdasarkan Faktor Aksesibilitas Sumber Daya. Jurnal Sain Peternakan Indonesia. 14 (1): 61-69.
Amam dan Soetriono. 2019. Evaluasi Performa Kelembagaan Peternak Sapi Perah Berdasarkan Aspek Risiko Bisnis dan Pengembangan Usaha. Jurnal Ilmu dan Teknologi Peternakan Tropis. 5 (3): 8-13.
Anggraeni, A. dan Mariana, E. 2016. Evaluasi Aspek Teknis Pemeliharaan Sapi Perah Menuju Good Diary Farming Practices pada Peternakan Sapi Perah Rakyat Pondok Ranggon. Jurnal Agripet. 16 (2): 90-96.
Handayanta, E. 2002. Optimalisasi Penggunaan Daun Ubi Kayu sebagai Pakan Ternak Ruminansia. Carakatani. 17 (2): 41-48.
Komar, A., Prajoga, S. B. K., dan Hermawan. 2010. Peran Usaha Perbibitan dalam Pengembangan Ternak Sapi Perah di Indonesia. Jurnal Ilmu Ternak. 10 (1): 7-13.
Jumriah, S., Tolleng, A. M., dan Umar. 2016. Pengaruh Pemberian Pakan Konsentrat dan Urea Molases Blok (UMB) terhadap Hematokrit Sapi Potong. Jurnal Ilmu dan Industri Peternakan. 2 (3): 1-6.
Makin, M. dan Suharwanto, D. 2012. Performa Sifat-sifat Produksi Susu dan Reproduksi Sapi Perah Fries Holland di Jawa Barat. Jurnal Ilmu Ternak. 12 (2): 39-44.
Mariyono dan Krishna, N. H. 2009. Pemanfaatan dan Keterbatasan Hasil Ikutan Pertanian serta Strategi Pemberian Pakan Berbasis Limbah Pertanian untuk Sapi Potong.
Nasrul, W. 2012. Pengembangan Kelembagaan Pertanian untuk Meningkatkan Kapasitas Petani terhadap Pembangunan Pertanian. Jurnal Menara Ilmu. 3 (29) 166-174.
Nurhayu, A., Ella, A., dan Sariubang, M. 2017. Perbaikan Pakan pada Sapi induk Sapi Perah sedang Laktasi di Kabupaten Enrekang, Sulawesi Selatan. Seminar Nasional Teknologi Peternakan dan Veteriner. Makassar. pp 132-138.
Riski, P., Purwanto, B. P., dan Atabany, A. 2016. Produksi dan Kualitas Susu Sapi FH Laktasi yang Diberi Pakan Daun Pelepah Sawit. Jurnal Ilmu Produksi dan Teknologi hasil Peternakan. 4 (3): 345-349.
Sulistyati, M., Hermawan, dan Fitriani, A. 2013. Potensi Usaha Sapi Perah Rakyat dalam Menghadapi Pasar Global. Jurnal Ilmu Ternak. 13 (1): 17-23.
Sunu, K. P. W., Hartutik, dan Hermanto. 2013. Pengaruh Penggunaan Ajitein dalam Pakan terhadap Produksi dan Kualitas Susu Sapi Perah. Jurnal Ilmu-Ilmu Peternakan. 23 (2): 42-51.
Susilawati, T. 2011. Tingkat Keberhasilan Inseminasi Buatan dengan Kualitas dan Deposisi Semen yang Berbeda pada Sapi Peranakan Ongole. Jurnal Ternak Tropika. 12 (2): 15-24.
Wiyono, G. 2011. Merancang Penelitian Bisnis dengan Alat Analisis SPSS 17.0 dan SmartPLS 2.0. Penerbit: Unit Penerbit dan Percetakan STIM YKPN. Yogyakarta.
DOI:
https://doi.org/10.31186/jspi.id.14.4.431-439
Article Metrics
Abstract Views : 0 times
PDF (Bahasa Indonesia) Downloaded : 0 times
Refbacks
There are currently no refbacks.

This work is licensed under a
Creative Commons Attribution-ShareAlike 4.0 International License
.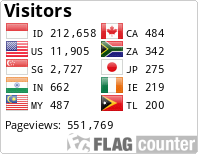 Editorial Office :
Gedung Laboratorium Jurusan Peternakan Lantai 2, Fakultas Pertanian Universitas Bengkulu
Jalan W.R. Supratman, Kandang Limun, Bengkulu, 38371
Email : jspi@unib.ac.id, jsainpet@gmail.com