Alternative Organic Liquid Fertilizer from Meatball Water Decoction with Banana Humps Activator
S. D. Cahyani
(1
)
, N. R. Amalia
(2)
, A. H. Achmad
(3)
, M. Hilmi
(4)
, D. Triasih
(5)
,
(1)&nbspPoliteknik Negeri Banyuwangi, Indonesia
(2)&nbspPoliteknik Negeri Banyuwangi, Indonesia
(3)&nbspPoliteknik Negeri Banyuwangi, Indonesia
(4)&nbspPoliteknik Negeri Banyuwangi, Indonesia
(5)&nbspPoliteknik Negeri Banyuwangi, Indonesia
Abstract
This study aimed to determine the effect of the use of EM4 and Local Microorganism (LM) activators from banana hump (Kepok banana, Raja banana, and Ambon banana) on the manufacture of organic liquid fertilizer derived from waste meatball water stew. The research method used in this study was Completely Randomized Design (CRD) consisting of 4 treatments and three replications, namely: P1 EM4, P2 (Local Microorganism from Kepok banana hump ), P2 (Local Microorganism from Ambon banana hump), P3 (Local Microorganism from Raja banana hump). In this study testing the levels of Nitrogen, Phosphorus, Potassium, Carbon, and pH levels in organic liquid fertilizer from boiled meatball water. The data obtained from this study were analyzed using Complete Randomized Design and Duncan's advanced test. The results of the addition of EM4 activator and banana hump MOL on the manufacture of organic liquid fertilizer from meatball decoction water showed no significant effect (P> 0.05) on N, K, and pH levels on fertilizers. The results showed a significant effect (P <0.05) on the P content of fertilizer. The highest C content was found in P2, while the highest C / N ratio was found in P0.
Keywords
activator, EM4, Local Microorganism, Organic Liquid Fertilizer
References
Agustina. 2004. Dasar Nutrisi Tanaman. Reneka Cipta. Jakarta. 54 hal.
Cesaria, R.Y., Wirosoedarmo, R., dan Suharto, B. 2010. Pengaruh penggunaan starter terhadap kualitas fermentasi limbah cair tapioka sebagai alternatif pupuk cair. Jurnal Sumberdaya Alam dan Lingkungan 12 (2): hal. 8-14
Christie. 2006. Decomposition of Silicate Minerals by Bacillus Mucilaginous In Liquid Cultures. Environ Geochem and Health Journal (28): 133-140.
Ekawandani, N dan A.K. Arini. 2018. Pengomposan sampah organik (kubis dan kulit pisang) dengan menggunakan EM 4. TEDC Jurnal. 12(1): 38 – 43.
Hidayati A. Yuli, Tb. Benito A. Kurniani, Eulis T. Marlina dan Ellina Harlina. 2011. Kualitas Pupuk Cair Hasil Feses Sapi Potong Menggunakan Saccaromyces cereviceae. Jurnal Ilmu Ternak. 11(2): 104-107
Indriani. 2002. Petunjuk Penggunaan Pupuk. Penebar Swadaya, Jakarta.
Karyono T., Maksudi., dan Yatno. 2017. Penambahan Aktivator MOL Bonggol Pisang dan EM4 Dalam Campuran Feses Sapi Potong dan Kulit Kopi Terhadap Kualitas Kompos dan Hasil Panen Pertama Rumput Setaria (Setaria splendida Stapf). Skripsi. Fakultas Pertanian Universitas Musi Rawa Lubuklinggau.
Kesuwaningwati, R. 2015. Penggunaan MOL bonggol pisang (Musa paradisiaca) sebagai dekomposer untuk pengomposan tandan kosong kelapa sawit. Jurnal. Ziraa'ah, Vol. 40 No. 1, Hal: 40-45
Lakitan, B. 2002. Dasar-Dasar Fisiologi Tumbuhan. Raja Grafindo Persada. Jakarta.
Maningsih, G., dan Anas, I. 1996. Peranan Aspergillus Niger Dan Bahan Organik Dalam Transformasi P Anorganik Tanah. Dalam Pemberitaan Penelitian Tanah dan Pupuk. Badan Litbang Pertanian. Puslittanak. 14:31-36.
Mashita, Nusa, dkk, 2008, Pengaruh Agen Dekomposer Terhadap Hasil Kualitas Hasil Pengomposan Sampah Organik Rumah Tangga. Sekolah Ilmu dan Teknologi Hayati, ITB, Bandung.
Mattjik, A.A dan M. Sumertajaya. 2002. Perancangan Percobaan dan Aplikasi SAS dan Minitab. Jilid I. Edisi ke 2. Bogor (ID): IPB Press.
Miftakhul, H.S., Suyono, dan P.R. Wikandari. 2013. Efektivitas kandungan unsur hara pada pupuk kandang hasil fermentasi kotoran ayam terhadap pertumbuhan tanaman terung (Solanum melongena L.). Unesa Journal of Chemistry. 2(1): 131 – 136.
Putri Wening Ratrina, Widodo Farid Maruf dan Eko Nurcahya. 2014. Pengaruh Penggunaan Bioaktivator EM4 Dan Penambahan Daun Lamtoro Terhadap Spesifikasi Pupuk Organik Cair Rumput Laut. Jurnal Pengolahan dan Bioteknologi Perikanan. 3 (3): 82-87.
Stofella P.J. dan Brian A. Khan. 2001. Compost Utilization in Horticulture Systems. Lewis Phublisher. USA. 56 p.
Suhastyo, A. A., I. Anas, dan D. A. Santoso. 2013. Studi mikrobiologi kimia mikroorganisme lokal (MOL) yang digunakan pada budidaya padi metode SRI (Sytem of Rice Intensification). Jurnal Sainteks Volume X No. 2.
DOI:
https://doi.org/10.31186/jspi.id.14.4.345-350
Article Metrics
Abstract Views : 0 times
PDF Downloaded : 0 times
Refbacks
There are currently no refbacks.

This work is licensed under a
Creative Commons Attribution-ShareAlike 4.0 International License
.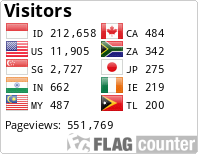 Editorial Office :
Gedung Laboratorium Jurusan Peternakan Lantai 2, Fakultas Pertanian Universitas Bengkulu
Jalan W.R. Supratman, Kandang Limun, Bengkulu, 38371
Email : jspi@unib.ac.id, jsainpet@gmail.com