Pengaruh Penggunaan Tempe Dedak dan Tape Dedak terhadap Performa Ayam Broiler
S. Fatimah
(1)
, U. Santoso
(2
)
, Y. Fenita
(3)
, Kususiyah Kususiyah
(4)
,
(1)&nbspJurusan Peternakan, Fakultas Pertanian, Universitas Bengkulu, Indonesia
(2)&nbspJurusan Peternakan, Fakultas Pertanian, Universitas Bengkulu, Indonesia
(3)&nbspJurusan Peternakan, Fakultas Pertanian, Universitas Bengkulu, Indonesia
(4)&nbspJurusan Peternakan, Fakultas Pertanian, Universitas Bengkulu, Indonesia
Abstract
Penelitian ini bertujuan untuk mengevaluasi pengaruh penggunaan tempe dedak dan tape dedak terhadap performa ayam broiler. Penelitian ini menggunakan 120 ekor ayam broiler berumur 21 hari. Rancangan penelitian yang digunakan adalah Rancangan Acak Lengkap (RAL) yang terdiri dari 5 perlakuan dengan 4 ulangan. Perlakuan terdiri dari P0: pakan mengandung 5% dedak; P1: pakan mengandung 14% tempe dedak; P2: pakan mengandung 20% tempe dedak; P3: pakan mengandung 14% tape dedak; P4: pakan mengandung tape dedak 20% tape dedak. Hasil penelitian menunjukkan bahwa asam fitat tempe dedak, tape dedk dan pada dedak masing-masing sebesar 3,12%, 3,09% dan 6,72%. Hasil analisis ragam menunjukkan bahwa perlakuan berpengaruh tidak nyata (P>0,05) terhadap konsumsi pakan, berat badan, pertambahan berat badan, dan konversi pakan. Dapat disimpulkan bahwa tempe dedak dan tape dedak dapat diberikan sampai dengan 20% tanpa menurunkan performa ayam broiler.
Keywords
Ayam broiler; performa; tempe dedak; tape dedak
References
Faria, S. A. dos S. C., P. Z. Bassinello, M. de V. C. Penteado. 2012. Nutritional composition of rice bran submitted to different stabilization procedures. Bra. J. Pharma. Sci. 48 (4): 651-657.
Fitriyani, I. N., U. Santoso dan T. Akbarillah. 2019. Pengaruh pemberian tempe dedak terhadap performa ayam broiler. Jurnal Sain Peternakan Indonesia 14 (3): 246-251.
Istiqomah, I., A. Febrisiantosa, A. Sofyan dan E. Damayanti. 2010. Implementation of fermented rice bran as a flavor enhancer additive and its effect on feed utilization and beef cattle performance. The 5th International Seminar on Tropical Animal Production, Community Empowerment and Tropical Animal Industry, October 19-22, 2010, Yogyakarta, Indonesia.
Kim, K. M., K. W. Yu, D. H. Kang, J. H. Koh, B. S. Hong dan H. J. Suh. 2001. Anti-stress and anti-fatigue effects of fermented rice bran. Biosci. Biotechnol. Biochem., 65 (10): 2294-2296.
Koni T. N. I, A.Paga dan A. Jehemat. 2013. Performa produksi broiler yang diberi ransum mengandung biji asam hasil fermentasi dengan ragi tempe (Rhizopus oligosporus). Jurnal Ilmu Ternak, 13 (1).: 13-16.
Lamichhane, U., S. Regmi dan R. Sah. 2018. Changes in palatability of poultry feed using garlic, ginger and their combination. Acta Scientific Agriculture, 2 (11): 68-72.
Olanipekun, B. F., E. T. Otunola dan O. J. Oyelade. 2015. Effect of fermentation on antinutritional factors and in vitro protein digestibility of Bambara nut (Voandzeia subterranean L.). Food Science and Quality Management 39: 98-110.
Oliveira, M. D. S., V. Feddern, L. Kupski, E. P. Cipolatti, E. Badiale-Furlong dan L. A. de Souza-Soares. 2010. Physico-chemical characterization of fermented rice bran biomass Caracterizacion fisico-qumica de la biomasa del salvado de arroz fermentado. CyTA–J. Food 8 (3): 229-236.
Peng. K., L. Long, Y. Wang dan S. Wang. 2016. Effects of octacosanol extracted from rice bran on the laying performance, egg quality and blood metabolites of laying hens. Asian-Aust. J. Anim. Sci. 29 (10): 1458-1463.
Plaipetch, P dan A. Yakupitiyage. 2013. Effect of replacing soybean meal with yeast-fermented canola meal on growth and nutrient retention of Nile tilapia, Oreochromis niloticus (Linnaeus 1758). Aquaculture Res. 2013, 1-10.
Sahdan, N. I. J., N. Abdullah, A. H. Samsudin dan A. J. Azilah. 2015. Effects of fermented rice bran on the growth performance of broiler.Proceeding of WVPA (Malaysia Branch) and WPSA (Malaysia Branch) Scientific Conference, Malaysia.
Santi, N.P.A.A, I.G.N.G.Bidura, dan D.P.M.A. Candrawati. 2015. Kecernaan dan nilai nutrisi dedak padi yang difermentasi dengan Saccharomyces sp isolat dari ragi tape. Peternakan Tropika 3 (1): 146-160.
Stodolak, B dan A. Starzynska-Janiszewska. 2008. The Influence of tempeh fermentation and conventional cooking on anti-nutrient level and protein bioavailability (in vitro test) of grass-pea seeds. J.Sci. Food and Agric., 88(13): 2265-2270.
Surya, K. K., S. Vanitha, S. Suresh dan K. V. Radha. 2013. Production and optimization of phytase from Rhizopus oligosporus using agro residues by solid state fermentation. Middle-East J. Sci. Res. 17 (12): 1839-1845.
Suhenda, N., R. Samsudin dan I. Melati. 2010. Peningkatan kualitas bahan nabati (dedak padi dan dedak polar) melalui proses fermentasi (Rhyzopus oligosparus) dan penggunaannya dalam pakan ikan (Cyprinus carpio). Prosiding Forum Inovasi Teknologi Akuakultur.
Sumiati, J., 2005. Rasio molar asam fitat : Zn untuk menentukan suplementasi Zn dan enzim fitase dalam ransum berkadar asam fitat tinggi. Disertasi, Sekolah Pascasarjana, Institut Pertanian Bogor, Bogor.
Supriyati, T. Haryati, T. Susanti dan I. W. R. Susana. 2015. Nutritional value of rice bran fermented by Bacillus amyloliquefaciens and humic substances and its utilization as feed ingredient for btoiler chickens. Asian-Australas. J. Anim. Sci., 28 (2): 231-238.
Woyengo, T. A. dan C. M. Nyachoti. 2013. Review: Anti-nutritional effects of phytic acid in diets for pigs and poultry – current knowledge and directions for future research. Can. J. Anim. Sci. 93: 9-21.
DOI:
https://doi.org/10.31186/jspi.id.15.2.124-131
Article Metrics
Abstract Views : 0 times
PDF (Bahasa Indonesia) Downloaded : 0 times
Refbacks
There are currently no refbacks.

This work is licensed under a
Creative Commons Attribution-ShareAlike 4.0 International License
.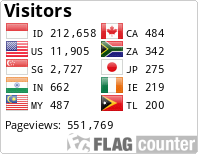 Editorial Office :
Gedung Laboratorium Jurusan Peternakan Lantai 2, Fakultas Pertanian Universitas Bengkulu
Jalan W.R. Supratman, Kandang Limun, Bengkulu, 38371
Email : jspi@unib.ac.id, jsainpet@gmail.com