Karakteristik Kuantitatif Sapi Bali Menggunakan Analisis Komponen Utama di Kabupaten Merangin dan Muaro Jambi, Provinsi Jambi
Gushairiyanto Gushairiyanto
(1)
, Depison Depison
(2
)
,
(1)&nbspProgram Studi Peternakan Fakultas Peternakan Universitas Jambi Jl. Jambi-Ma. Bulian KM 15 Mendalo Darat Jambi 36361 Indonesia, Indonesia
(2)&nbspJambi University, Indonesia
Abstract
Tujuan penelitian ini, untuk mengetahui karakteristik kuantitatif sapi Bali menggunakan analisis komponen utama di Kabupaten Merangin dan Muaro Jambi Provinsi Jambi. Data yang dihimpun adalah karakteristik kuantitatif meliputi; bobot badan, pertambahan bobot badan, panjang badan, tinggi pundak, lingkar dada, dalam dada, lebar dada, tinggi pinggul, lingkar kanon dan lebar pinggul sapi Bali di kedua lokasi. Materi penelitian ini adalah sapi Bali Umur I1 (1-2) tahun. Metode penelitian survei, teknik pengambilan sampel secara purpossive sampling. Jumlah sampel yang dihimpun sebanyak 120 ekor masing masing kabupaten 60 ekor yang terdiri dari 30 ekor jantan dan 30 ekor betina. Uji t digunakan untuk menganalisis perbedaan karakteristik kuantitatif. Analsisi Komponen Utama digunakan untuk menentukan faktor penentu ukuran dan bentuk sapi Bali.  Hasil penelitian menunjukkan bahwa bobot badan, pertambahan bobot badan dan ukuran tubuh sapi Bali jantan dan betina antara kedua kabupaten berbeda tidak nyata (P>0,05), namun bobot badan, pertambahan bobot dan dan ukuran ukuran tubuh sapi Bali Jantan dan betina di kedua kabupaten berbeda nyata (P<0,05). Faktor penentu ukuran tubuh sapi Bali di Kabupaten Merangin dan Kabupaten Muaro Jambi adalah Lingkar Dada, sedangkan penentu bentuk tubuh adalah panjang badan.
Keywords
Analisis Komponen Utama; Karakterisasi Kuantitatif; Sapi Bali
References
[DTPHP]. Dinas Peternakan dan Kesehatan Hewan Provinsi Jambi 2018. Statistik Peternakan dan Kesehatan Hewan Provinsi Jambi. Jambi
Gaspersz, V. 2006. Teknik Analisis dalam Penelitian Percobaan. Penerbit. Tarsito. Bandung.
Hamdani, M. D. I., K. Adhianto, Sulastri, A. Husni dan Renitasari. 2017. Ukuran-ukuran tubuh sapi Krui jantan dan betina di Kabupaten Pesisir Barat Lampung. Jurnal Ilmu Ternak 17 (2): 97-102.
Hikmawaty, A. Gunawan, R. R. Noor dan Jakaria. 2014. Identifikasi ukuran tubuh dan bentuk tubuh sapi bali di beberapa pusat pembibitan melalui pendekatan analisis komponen utama. Jurnal Ilmu Produksi dan Teknologi Hasil Peternakan 2 (1): 231 – 237.
Hikmawaty, B., A.T.B.A. Mahmud, dan A. Salam. 2018. Korelasi bobot badan dan variabel-variabel ukuran tubuh sebagai dasar seleksi calon induk sapi Bali. Agrovital (Jurnal Ilmu Pertanian Universitas Al Asyariah Mandar) 3 (1):11-13.
Kurnianto, E., S. Sutopo, E. Purbowati, E.T. Setiatin, D. Samsudewa, dan T. Permatasari. 2013. Multivariate analysis of morphological traits of local goats in Central Java,Indonesia. Iranian Journal of Applied Animal Science. 3 (2): 361–367.
Mabrouk, O., N. Sghair, G. Amor, B.A. Mohamed, dan B.A.E. Amel. 2010. Morphostructural growth according to the sex and birth mode and Relationship between body size and body weight of the local kids at the First five months of age in Tunisian arid area. Res J Biol Sci. 3:120-127.
Mahmudi, R. Priyanto, dan Jakaria. 2019. karakteristik morfometrik sapi aceh, sapi po dan sapi bali berdasarkan Analisis Komponen Utama (AKU). Jurnal Ilmu Produksi dan Teknologi Hasil Peternakan 7 (1): 35 – 40.
Noor, R. R. 2008. Genetika Ternak. Cetakan ke-4. PT. Penebar Swadaya. Jakarta.
Setiyono, A. H. A. Kusuma dan Rusman. 2017. Pengaruh bangsa, umur, jenis kelamin terhadap kualitas daging sapi potong di Daerah Istimewa Yogyakarta. Buletin Peternakan 41 (2) : 176–186.
Sutarno dan A. D. Setyawan. 2015. Genetic diversity of local and exotic cattle and heir cross breeding impact on the quality of Indonesian cattle. Biodiversitas 16 (2): 327-354.
Zurahmah, N dan E. The. 2011. Pendugaan bobot badan calon pejantan sapi Bali menggunakan dimensi ukuran tubuh. Buletin Peternakan 5 (3): 160– 164.
DOI:
https://doi.org/10.31186/jspi.id.16.1.74-79
Article Metrics
Abstract Views : 0 times
PDF Downloaded : 0 times
Refbacks
There are currently no refbacks.

This work is licensed under a
Creative Commons Attribution-ShareAlike 4.0 International License
.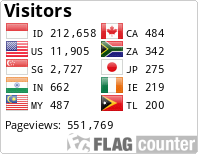 Editorial Office :
Gedung Laboratorium Jurusan Peternakan Lantai 2, Fakultas Pertanian Universitas Bengkulu
Jalan W.R. Supratman, Kandang Limun, Bengkulu, 38371
Email : jspi@unib.ac.id, jsainpet@gmail.com