Uji Kelayakan Sinbiotik (Lactobacillus plantarum) dan Limbah Ekstraksi Temulawak) sebagai Upaya Produksi Sinbiotik Rendah Kolesterol
A. I. Fauzi
(1
)
, G. B. Pramana
(2)
, M. Z. Asror
(3)
, D. Samsudewa
(4)
,
(1)&nbspUniversitas Diponegoro, Semarang, Indonesia, Indonesia
(2)&nbspUniversitas Diponegoro, Semarang, Indonesia, Indonesia
(3)&nbspUniversitas Diponegoro, Semarang, Indonesia, Indonesia
(4)&nbspUniversitas Diponegoro, Semarang, Indonesia, Indonesia
Abstract
Tujuan dari penelitian ini adalah untuk mengetahui sinergitas simbiosis probiotik (L. plantarum) dan prebiotik (limbah ekstraksi temulawak), ketahanan L. plantarum terhadap bakteri patogen,pH asam dan garam empedu.Tiga puluh enam sampel probiotik dalam medium agar berisi limbah temulawak dengan persentase yang berbeda digunakan dalam uji daya hidup bakteri, Empat isolat bakteri L. plantarum digunakan dalam uji tantang bakteri dan enam isolat bakteri L. plantarum digunakan dalam uji ketahanan pH asam dan garam empedu. Data hasil penelitian daya hidup bakteri L. plantarum dianalisis menggunakan analisis varian, sedangkan parameter yang lain menggunakan analisis deskriptif kualitatif. Hasil penelitian menunjukkan jumlah koloni bakteri yang tumbuh pada persentase temulawak 1%, 2% dan 3 % berturut-turut adalah 0,8 x 108, 2,3 x 108 dan 1,3 x 108. Uji tantang bakteri L. plantarum terhadap Salmonella sp dan Staphylococcus sp. menunjukkan daya tahan yang baik. Uji ketahanan pH asam dan garam empedu menunjukkan ketahanan L. plantarum pada pH 1,5-6,5 dan garam empedu 1-6 mL. Kesimpulan dari penelitian ini adalah L. plantarum memiliki sinergitas simbiosis dengan limbah ekstraksi temulawak untuk menyusun sinbiotik rendah kolesterol. L. plantarum juga memiliki ketahanan terhadap bakteri Salmonella sp. dan Staphylococcus sp, pH 1,5-6,5 dan garam empedu 1-6 mL.
Kata kunci : Limbah temulawak, Lactobacillus plantarum dan sinbiotik
References
Damongilala, L. J. 2009. Kadar air dan total bakteri pada ikan ROA (Hemirhampus sp.) asap dengan metode pencucian bahan baku berbeda. J. Ilmiah Sains 9 (2): 190-198
Gaggia, F., P. Mattarelli and B. Biavati. 2010. Probiotic and prebiotics in animal feeding for safe food production. Intl. J. Food Microbiol. 14: 515 – 528.
Hamasalim, H. J. 2016. Synbiotic as feed additives relating to animal health and performance. Adv. In Microb. 6: 288-302.
Haryati, T. 2011. Probiotik dan prebiotik sebagai pakan imbuhan nonruminansia. Wartazoa 21(3): 125-132.
Mahdavi, A. H., H. R. Rahmani and J. Pourreza. 2005. Effect of probiotic supplements on egg quality and laying hen's performance. Int. J. of Poultry Sci. 4 (7): 488-492.
Nufus, B. N., G. Tresnani dan Faturrahman. 2016. Populasi bakteri normal dan bakteri kitinolitik pada saluran pencernaan lobster pasir (Panulirus homarus L.) yang diberi kitosan. J. Biol. Trop. 16 (1): 15-23.
Putra, S. H. J. dan S. Mansur. 2017. Pengaruh pemberian suplemen serbuk kunyit (Currcuma longa L.) terhadap kadar kolesterol hati puyuh Jepang (Coturnix coturnix japonica L.). J. Mangif. Edu II (1): 25-31.
Rashid, M., Alam, S., Khalil and Ayub. 2007. In vitro solubilization of inorganic phosphate by phosphate solubilizing microorganisms (PSM) from maize rhizosphere. Int. J. of Agric. and Biol. (4) : 54-458.
Sari, E. M. A., E. Suprijatna dan W. Sarengat. 2017. Pengaruh sinbiotik untuk aditif pakan ayam petelur terhadap kandungan kimiawi telur. J. Petern. Ind. 19 (1): 16-22.
Saty, L., K. Praseno dan Kasiyati. 2014. Kadar kolesterol dan ?-karoten telur itik dari beberapa lokasi budidaya itik di Jawa. Buletin Anatomi dan Fisiologi XXII (2): 56-63.
Teru, V., M. H. Natsir dan E. Widodo. 2017. Pemanfaatan tepung kulit bawang merah (Allium ascalonium) sebagai imbuhan pakan terhadap penampilan, profil darah dan kolesterol pada puyuh petelur. JIIP. 27 (3): 76-82.
Zavaglia, A. G., G. Kociubinski, P. Perez, G. D. Antoni. 1998. Isolation and characterization of bifidobacterium strains of probiotik formulation. J. Food Protect. 61(7) 865-873.
Zurmiati, M. E. Mahata, M. H. Abbas, Wizna. 2014. Aplikasi Probiotik Untuk Ternak Itik. Jurnal Peternakan Indonesia. 16 (2) : 134-144.
DOI:
https://doi.org/10.31186/jspi.id.13.4.395-401
Article Metrics
Abstract Views : 0 times
PDF Downloaded : 0 times
Refbacks
There are currently no refbacks.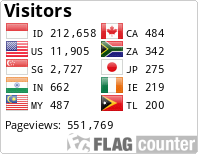 Editorial Office :
Gedung Laboratorium Jurusan Peternakan Lantai 2, Fakultas Pertanian Universitas Bengkulu
Jalan W.R. Supratman, Kandang Limun, Bengkulu, 38371
Email : jspi@unib.ac.id, jsainpet@gmail.com