Performans Itik Tegal Betina dengan Sistem Pemeliharaan Intensif dan Semi Intensif di KTT Bulusari Kabupaten Pemalang
Agam Pradipta Adi
(1
)
, Dwi Sunarti
(2)
, Rina Muryani
(3)
,
(1)&nbspFakultas Peternakan dan Pertanian Universitas Diponegoro Tembalang 50275, Semarang. Indonesia, Indonesia
(2)&nbspFakultas Peternakan dan Pertanian Universitas Diponegoro Tembalang 50275, Semarang. Indonesia, Indonesia
(3)&nbspFakultas Peternakan dan Pertanian Universitas Diponegoro Tembalang 50275, Semarang. Indonesia, Indonesia
Abstract
Tujuan penelitian ini adalah untuk mengetahui perbedaan sistem pemeliharaan intensif dan semi intensif pada performans itik Tegal berupa komposisi dan konsumsi nutrien, konversi pakan dan produksi telur. Penelitian dilaksanakan pada bulan April – Mei 2018 di peternakan rakyat Desa Bulu, Kecamatan Petarukan, Kabupaten Pemalang, Jawa Tengah. Materi yang digunakan dalam penelitian yaitu 2265 ekor itik Tegal betina dari 13 peternak itik di KTT Bulusari yang terdiri dari 6 peternak dengan sistem pemeliharaan semi intensif dan 7 peternak dengan sistem pemeliharaan intensif. Itik Tegal dipelihara selama 40 hari. Penelitian ini merupakan jenis penelitian deskriptif kuantitatif yang menginterprestasikan suatu data dari sampel penelitian yang dianalisis dengan uji Mann-Whitney. Hasil penelitian menunjukkan bahwa konversi pakan dan HDP itik Tegal betina yang dipelihara  secara intensif sebesar 7,09 dan 57,57%, sedangkan  itik yang dipelihara secara semi intensif adalah sebesar 1,43 dan 58,84%.  Sistem pemeliharaan semi intensif lebih menguntungkan karena lebih sedikit pakan dapat memproduksi secara optimal.
Keywords
itik Tegal, sistem pemeliharaan, intensif, semi intensif, produksi telur, dan konversi pakan
References
Afandi, R. B. Hartono, Irfan, dan H. Djunaidi. 2006. Karakteristik penggunaan dua jenis pakan terhadap performa produksi ayam ras petelur di
Kabupaten Blitar Jawa Timur. Jurnal Ilmu Ternak dan Veteriner 14 (2) : 103-105.
Anggorodi, R. 1985. Ilmu Makanan Ternak Umum. PT. Gramedia, Jakarta.
Budiharjo, K., D. Sumarjono, M. Handayani, dan G. Siwi. 2009. Studi potensi ekonomi usaha ternak itik di kabupaten Tegal. Prosiding Seminar Kebangkitan Nasional 20 Mei 2009: 572-580.
Firdus, dan Z.A. Muchlisin. 2005. Pemanfaatan keong mas (Pomacea canaliculata) sebagai pakan alternatif dalam budidaya ikan kerapu lumpur. J. Enviro. 5 (1) ;64-66.
Fouad, A. M., D. Ruan, S. Wang, W. Chen, W. Xia, dan C. Zheng. 2018. Nutritional requirements of meat type and egg type duck. Journal of Animal Science and Biotechnology. 9 (1): 1-11.
Imawan, M. R., R. Sutrisna, dan T. Kartini. 2016. Pengaruh ransum dengan kadar protein kasar berbeda terhadap pertumbuhan itik betina Mojosari. Jurnal Ilmiah Peternakan Terpadu 4 (4) : 300-306.
Juliambarwati, M. 2012. Pengaruh Penggunaan Tepung Limbah Udang dalam Ransum Terhadap Kualitas Telur Itik. Fakultas Peternakan Universitas Sebelas Maret, Surakarta (Skripsi).
Ketaren, P. 2007. Peran Itik sebagai Penghasil Telur dan Daging Nasional. Balai Penelitian Ternak, Bogor.
Ketaren, P. 2010. Kebutuhan Gizi Ternak Unggas di Indonesia. Balai Penelitian Ternak, Bogor.
Nugraha, D., U. Atmomarsono dan L. D. Mahfudz. 2012. Pengaruh penambahan eceng gondok (Eichornia crassipes) fermentasi dalam ransum terhadap produksi telur itik Tegal. Animal Agricultural Journal. 1 (1) : 75-85.
Prasetyo, H., dan Ketaren, P. 2005. Interaksi antara bangsa itik dan kualitas ransum pada produksi dan kualitas telur itik Lokal. Prosiding Seminar Nasional Teknologi Peternakan dan Veteriner. Balai Penelitian Ternak, Bogor.
Purba, M, T. Haryati, dan A. P. Sinurat. 2015. Performa Itik Pedaging EPMp dengan Pemberian Pakan yang mengandung Berbagai Level Lisin selama Periode Starter. Balai Penelitian Ternak, Bogor.
Ranto. 2005. Panduan Lengkap Beternak Itik. Agromedia Pustaka, Jakarta.
Rasyaf, M. 2002. Beternak Itik. Edisi ke-16. Kanisius. Yogyakarta.
Sandhy, S. W. 2000. Beternak Itik Tanpa Air. Penebar Swadaya. Jakarta.
Suharno, Bambang, dan Toni, S. 2002. Beternak Itik Petelur di Kandang Baterai. Penebar Swadaya, Jakarta.
Sari, E., dan A. Afrila. 2014. Efek enzim papain pada berbagai pakan kandungan protein berbeda terhadap produksi dan kecernaan ayam kampung. Buana Sains. 14 (1) : 85 - 94.
Setioko, A, R., S. Iskandar., Y, C, Raharjo., T, D, Soedjana., T, Murtisari., M, Purba., S, E., N, Sunandar dan D, Sarosa. 2000. Model usaha ternak itik dalam sistem pertanian IP 300. Jurnal Ilmu Ternak dan Veteriner. 5(1) : 38-45.
Sinurat, A. P. 2000. Penyusunan Ransum Ayam Buras dan Itik. Pelatihan Proyek Pengembangan Agribisnis Peternakan. Dinas Peternakan DKI Jakarta, Jakarta.
Siregar, A.P. M. Sabroni, dan Suroprawiro. 1980. Teknik Beternak Ayam Pedaging di Indonesia. Margie Group, Jakarta.
Standar Nasional Indonesia. 2000. Pakan Itik Petelur. Badan Standarisasi Nasional Indonesia No. 3910. Jakarta.
Srigandono, B. 1997. Produksi Unggas Air. Gadjah Mada University Press, Yogyakarta.
Subiharta, M. D. Yuwono, dan P. Sudrajat. 2013. Karakteristik Itik Tegal (Anas plantyhyncos javanicus) sebagai Itik petelur unggulan lokal jawa tengah dan upaya peningkatan produksinya. Seminar Nasional: Menggagas Kebangkitan Komoditas Unggulan Lokal Pertanian dan Kelautan. Fakultas Pertanian Universitas Trunojoyo, Madura.
Suharno, B. dan K. Amri. 2003. Beternak Itik secara Intensif. Cetakan Ke -8. Penebar Swadaya, Jakarta.
Susanti, T. dan L.H. Prasetyo. 2007. Panduan Karakterisasi Ternak Itik. Pusat Penelitian dan Pengembangan Peternakan, Bogor.
Swacita, I. B. N dan S. Cipta. 2011. Pengaruh sistem peternakan dan lama penyimpanan terhadap kualitas telur itik. Buletin Veteriner Udayana. Fakultas Kedokteran Hewan Universitas Udayana. 3 (2) : 91-98.
Talat, R., and R. Azmat. 2006. Nutritive evaluation of edible trash fish: II use of trash protein in cereal food diet. Journal of Zoological Research 2 (2): 110 – 115.
Tumanggor, B. G., D. M. Suci, dan S. Suharti. 2017. Kajian pemberian pakan pada itik dengan sistem pemeliharaan intensif dan semi intensif di peternakan rakyat. Buletin Makanan Ternak. 104 (1) : 21-29.
DOI:
https://doi.org/10.31186/jspi.id.14.3.237-245
Article Metrics
Abstract Views : 0 times
PDF (Bahasa Indonesia) Downloaded : 0 times
Refbacks
There are currently no refbacks.

This work is licensed under a
Creative Commons Attribution-ShareAlike 4.0 International License
.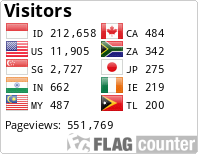 Editorial Office :
Gedung Laboratorium Jurusan Peternakan Lantai 2, Fakultas Pertanian Universitas Bengkulu
Jalan W.R. Supratman, Kandang Limun, Bengkulu, 38371
Email : jspi@unib.ac.id, jsainpet@gmail.com