Pengaruh Pemberian Tempe Dedak Terhadap Performa Ayam Broiler
Isa Nur Fitriyani
(1)
, Urip Santoso
(2
)
, Tris Akbarillah
(3)
,
(1)&nbspJurusan Peternakan Fakultas Pertanian Universitas Bengkulu, Indonesia
(2)&nbspJurusan Peternakan Fakultas Pertanian Universitas Bengkulu, Indonesia
(3)&nbspJurusan Peternakan Fakultas Pertanian Universitas Bengkulu, Indonesia
Abstract
Penelitian ini bertujuan untuk mengevaluasi pengaruh pemberian tempe dedak terhadap performa ayam broiler. Penelitian menggunakan Rancangan Acak Lengkap (RAL) dengan 5 kelompok perlakuan yang terdiri 4 ulangan pada setiap perlakuan. Setiap ulanganberisi 4 ekor ayam broiler. Adapun ke 5 perlakuan itu adalah sebagai berikut: 1) Broiler diberi pakan yang mengandung dedak sebagai kontrol (P0); 2)  broiler diberi pakan mengandung 5% tempe dedak (P1); 3) broiler diberi pakan mengandung 8% tempe dedak (P2); 4) broiler diberi pakan mengandung 11% tempe dedak (P3) dan; 4) broiler diberi pakan mengandung 14% tempe dedak (P4). Hasil penelitian menunjukkan bahwa pemberian tempe dedak berpengaruh tidak nyata (P>0,05) terhadap konsumsi ransum, pertambahan berat badan dan konversi pakan pada ayam broiler. Dapat disimpulkan bahwa tempe dedak dapat diberikan pada pakan broiler sampai dengan 14%.
Keywords
Tempe dedak, pertambahan berat badan, konversi pakan, ayam broiler
References
Andriyanto, A. S. Satyaningtijas, R. Yufiandri, R. Wulandari, V. M. Darwin, dan S. N. A. Siburian. 2014. Performa dan kecernaan pakan ayam broiler yang diberi hormon testosteron dengan dosis bertingka. Jurnal Fakultas Kedokteran Hewan IPB. Bogor.
Hardini, D. 2010. The nutrient evaluation of fermented rice bran as poultry feed. International Journal of Poultry Science. 9 (2): 152-154.
Hartadi, H., S. Reksohadiprodjo dan A.D. Tillman. 2005. Tabel Komposisi Pakan Untuk Indonesia. Gadjah Mada University Press, Yogyakarta.
Koni, T. N. I, A. Paga, dan A. Jahemat. Respon Broiler terhadap Ransum Biji Asam. 2008. Jurnal Ilmu Ternak. 13 (1) : 48-49.
Munira, S., L. O. Nafiu dan A. M. Tasse. 2016. Performans ayam kampung super pada pakan yang disubtitusi dedak padi fermentasi dengan fermentor yang berbeda. JITRO, 3 (2): 20-29.
Oliveira, M. D. S., Feddern, V., Kupski, L., Cipolatti, E. P., Badiale-Furlong, E., & de Souza-Soares, L. A. 2010. Physico-chemical characterization of fermented rice bran biomass Caracterización fisico-química de la biomasa del salvado de arroz fermentado. CyTA–Journal of Food. 8 (3): 229-236.
Putrawan, I.D.G.A., dan T.H.Soerawidjaja. 2007. Stabilisasi dedak padi melalui pemasakan ekstrusif. Jurnal Teknik Kimia Indonesia. 6 (3) : 681- 688.
Stodolak, B. and A. Starzy?ska?Janiszewska. 2008. The influence of tempeh fermentation and conventional cooking on anti?nutrient level and protein bioavailability (in vitro test) of grass?pea seeds. Journal of the Science of Food and Agriculture. 88 (13): 2265-2270.
Sukaryana Y., U. Atmomarsono, V. D. Yunianto, E. Supriyatna. 2011. Peningkatan nilai kecernaan protein kasar dan lemak kasar produk fermentasi campuran bungkil inti sawit dan dedak padi pada broiler. JITP. 1(3): 167-172.
Suhenda, N., R. Samsudin dan I. Melati. 2010. Peningkatan kualitas bahan nabati (dedak padi dan dedak polar) melalui proses fermentasi (Rhyzopus ologosporus) dan penggunaannya dalam pakan ikan (Cyprinus carpio). Prosiding Forum Inovasi Teknologi Akuakultur.
Susi, S. 2012. Komposisi kimia dan asam amino pada tempe kacang nagara (Vigna unguiculata ssp. cylindrica). Agroscientie. 19 (1) :28 -36.
Wahyuni, S., D. C. Budinuryanto, H. Supratman dan Suliantari. 2011. Respon broiler terhadap pemberiaan ransum mengandung dedak padi fermentasi oleh kapang Aspergillus ficuum. Jurnal Ilmu Ternak. 10 (1) : 26-31.
Zulfanita, R. Eny dan D. P. Utami. 2011. Pembatasan ransum berpengaruh terhadap pertambahan bobot badan ayam broiler pada periode pertumbuhan. Jurnal Ilmu-ilmu Pertanian. 7 (1) : 59-67.
DOI:
https://doi.org/10.31186/jspi.id.14.3.246-251
Article Metrics
Abstract Views : 0 times
PDF (Bahasa Indonesia) Downloaded : 0 times
Refbacks
There are currently no refbacks.

This work is licensed under a
Creative Commons Attribution-ShareAlike 4.0 International License
.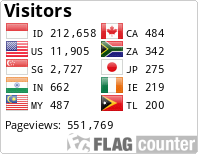 Editorial Office :
Gedung Laboratorium Jurusan Peternakan Lantai 2, Fakultas Pertanian Universitas Bengkulu
Jalan W.R. Supratman, Kandang Limun, Bengkulu, 38371
Email : jspi@unib.ac.id, jsainpet@gmail.com