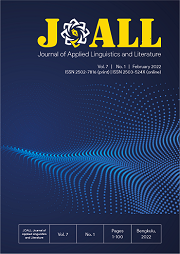 Journal Description
JOALL (Journal of Applied Linguistics and Literature) is a double-blind peer-reviewed international journal with an editorial board of scholars mainly in applied linguistics, literature, and English language teaching (ELT). Published biannually by UNIB Press, Universitas Bengkulu, Indonesia with the ISSN (online): 2503-524X; and ISSN (print): 2502-7816, the journal seeks to disseminate research to educators around the world. Authors are encouraged to submit complete, unpublished, original, and full-length articles that are not under review in any other journals. 
2020-05-11
JOALL is now at Sinta 2 in the Indonesian National Accreditation ranking. Download the certificate here.
2019-04-25
To improve the acceptability of the JOALL's performance regarding the government's rule and the international standard on the journal's template, we have made some changes in the template of the article since the publication of Volume 4, Number 1, February 2019.
The newest template is here