A B C D E F G H I J K L M N O P Q R S T U V W X Y Z All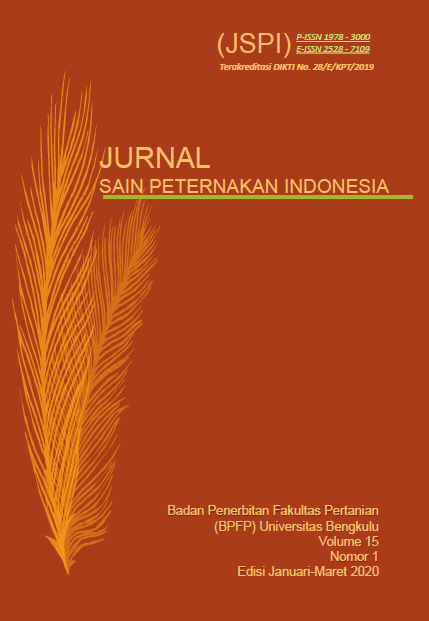 Jurnal Sain Peternakan Indonesia
Jurnal Sain Peternakan Indonesia (JSPI) pISSN 1978 - 3000 and eISSN 2528 - 7109 is the official scientific magazine issued by the Department of Animal Husbandry of the Faculty of Agriculture of Bengkulu University, as its contribution to the development of Animal Science published in Bahasa Indonesia and English which contains the results of research, / literature review, field case or idea in the field of animal husbandry.
JSPI first published in 2006 as much as 2 times in one year ie January-June and July-December edition. In 2017, JSPI began to publish 4 articles in one volume a year in March, June, September, and December. Special editions in English can be published if necessary. Editorial received a paper in the field of animal husbandry that has not been published. 
Since May 24, 2019, JSPI has been indexed in Directory of Open Access Journals (DOAJ).
JSPI has been accredited by National Journal Accreditation (ARJUNA)  by the Ministry of Research, Technology, and Higher Education, Republic of Indonesia with Grade (Sinta 3) since 2019 to 2023 (Decree No. 28/E/KPT/2019).
View Journal | Current Issue | Register
JOALL (Journal of Applied Linguistics & Literature)
JOALL (Journal of Applied Linguistics and Literature) is a peer-reviewed professional journal with the editorial board of scholars mainly in applied linguistics, literature, and English language teaching (ELT). It is published by the Postgraduate Program of English Education, Universitas Bengkulu, Indonesia with the ISSN (online):2503-524X; and ISSN (print): 2502-7816.
The journal seeks to disseminate research to educators around the world and is published twice a year in the months of February and August. The newest template has been published since Volume 4(1): February 2019. 
View Journal | Current Issue | Register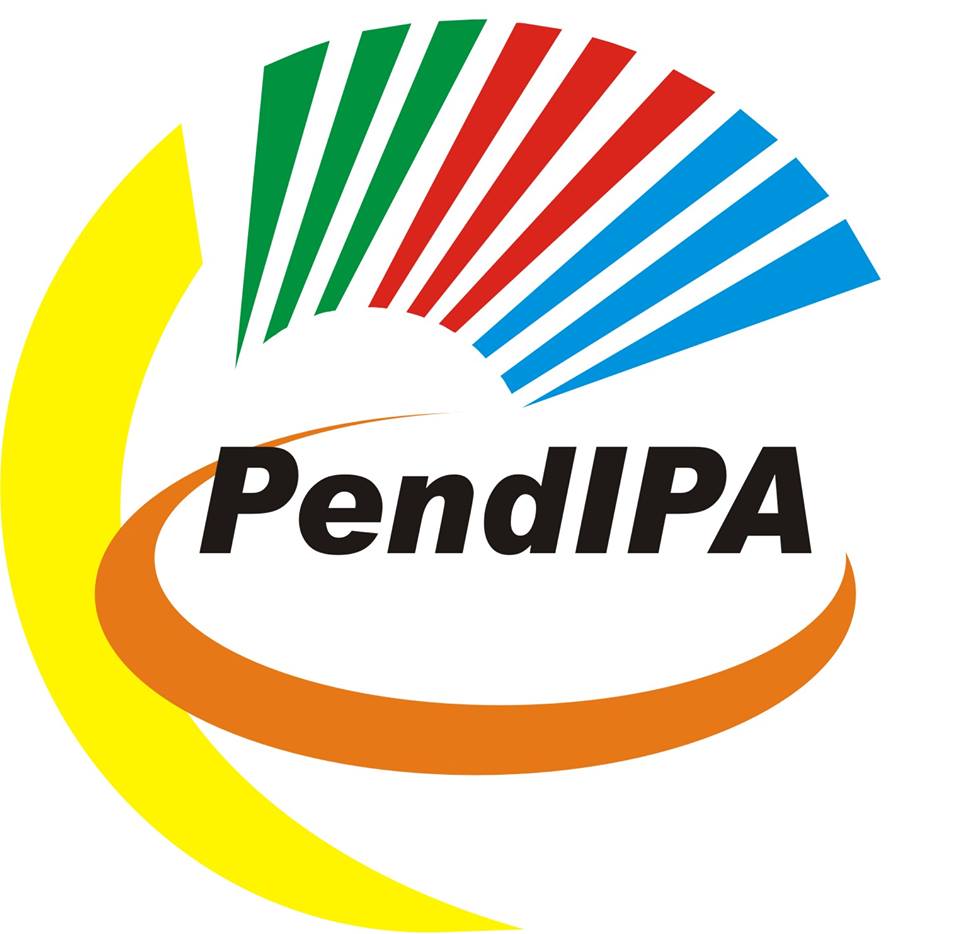 PENDIPA Journal of Science Education
PENDIPA: Jurnal Pendidikan Sains Universitas Bengkulu or Pendipa Journal of Science Education is a peer-reviewed, open-access journal covering all aspect of science and science education. PENDIPA journal welcomes the submission of scientific articles related to mathematics, physics, chemistry, biology, and its implementation in a school, higher education and other educational institution. We encourage scientist, lecturer, teacher and student to submit their original paper to the journal. PENDIPA journal is published by Graduate School of Science Education - University of Bengkulu, three times a year on February, June and October.
Starting from Volume 2 (2018), all articles in PENDIPA Journal of Science Education have been accredited by SINTA as stated by the Kemenristekdikti through their decree no: 28/E/KPT/2019, 26 September 2019. Furthermore, starting from 8 November 2019, the journal has been indexed by DOAJ.
e-ISSN 2622-9307
p-ISSN 2086-9363
View Journal | Current Issue | Register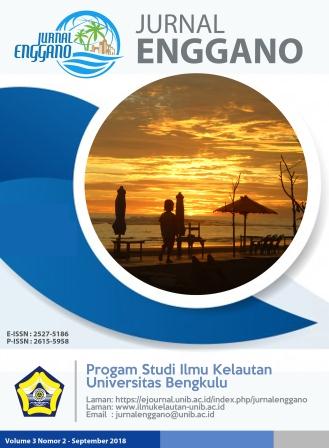 JURNAL ENGGANO
Jurnal Enggano is published twice a year, in April and September, and contains a mixture of academic articles and reviews on all aspects of marine science and fisheries.
The journal  has been published by Badan Penerbitan Fakultas Pertanian (BPFP) Universitas Bengkulu since April 2016.
Articles in the journal may be downloaded, reproduced and redistributed as long as the author and source are properly cited.
View Journal | Current Issue | Register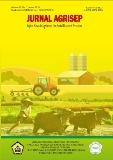 Jurnal AGRISEP Kajian Masalah Sosial Ekonomi Pertanian dan Agribisnis
AGRISEP Journal is a scientific communication media which is issued by Agribusiness Study Program of Agricultural Socio-Economics Faculty of Agriculture, the University of Bengkulu in collaborations with Perhimpunan Ekonomi Pertanian Indonesia (PERHEPI) and Associations Agribisnis Indonesia (AAI). It's the contribution to the development of social science and agricultural economy in agribusiness field which is divided into Indonesian Language and English which contains research results, literature review, field cases or concepts in the socio-economic field of agriculture. Journal AGRISEP p-ISSN 1412 - 8837 (Printed) and e-ISSN 2579-9959 (online) in a year published twice (March and September). Special editions in English can be issued required. The Agrisep journal fits well for researchers and academics who are inheriting the results of research, scientific thought, and other original scientific ideas. Journal AGRISEP publishes research papers, technical papers, conceptual papers, and case study reports. The article translated in the Journal of Agrisep is the original author's work with broad topics covering agricultural economics, agribusiness management, rural sociology, agrarian studies, regional development, politics and agricultural policy, natural resource and environmental management, and agricultural/rural counselling and communication.
The process of the manuscript could be monitored through OJS. Authors, readers, editorial board, editors, and peer review could obtain the real-time status of the manuscript. A hard copy of the journal could be purchased by the system. Several other changes are informed in Journal History.

View Journal | Current Issue | Register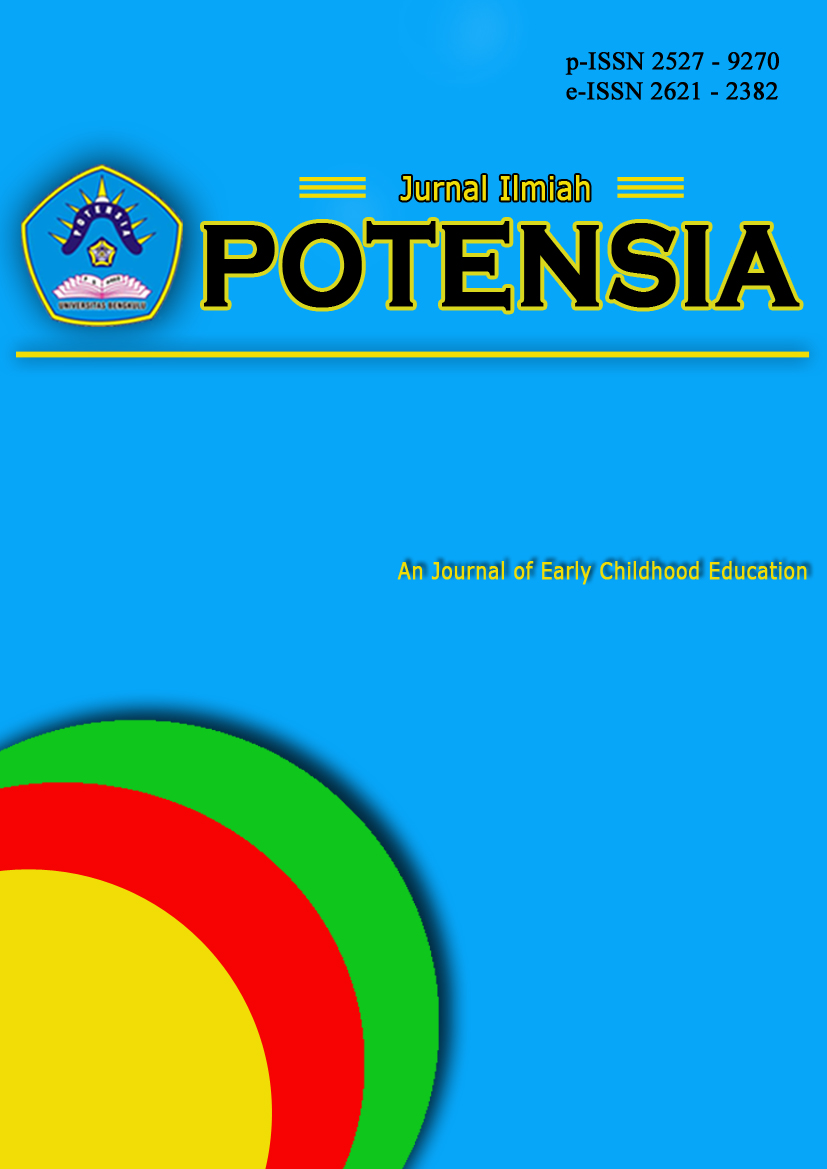 Jurnal Ilmiah Potensia
Jurnal Ilmiah Potensia publishes reports field studies, research articles,  the best practices and policies of early childhood learning in the national and international stage.
Jurnal Ilmiah Potensia publishes original manuscripts, reviews, and information about association activities. Its purpose is to provide a forum for consideration of issues and for the exchange of information and ideas about research and practice in early childhood teacher education. Published by UNIB Press. Its been indexed by Google Scholar, Garuda, Onesearch, Crossref, Road, Moraref.  P-ISSN 2527-9270
E-ISSN 2621-2382. DOI articles have been activated since January 2019.  
Areas of Emphasis: International studies; Educational programs in diverse settings; Projects demonstrating inter-professional collaboration; Qualitative and quantitative research and case studies; Theory, research, and practice relating to professional development; Family support and community action programs.
View Journal | Current Issue | Register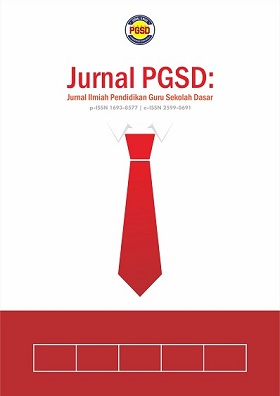 Jurnal PGSD: Jurnal Ilmiah Pendidikan Guru Sekolah Dasar
PGSD Scientific Journal is a journal with peer reviews published twice every May and November. The PGSD Scientific Journal publishes research articles that discuss learning at PGSD or in Elementary Schools that discuss learning curriculum and technology, school management, education policies in elementary school.

p-ISSN 1693-8577
e-ISSN 2599-0691