A B C D E F G H I J K L M N O P Q R S T U V W X Y Z All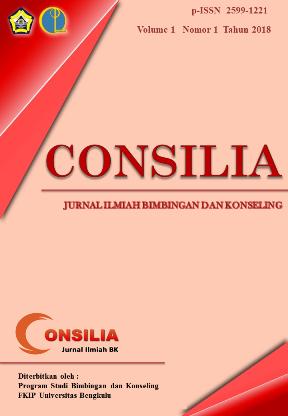 Consilia : Jurnal Ilmiah Bimbingan dan Konseling
CONSILIA is a journal published by the Guidance and Counseling Program of FKIP University of Bengkulu. Consilia is published three times a year in January, May, and November. Consilia is available in printed-out and electronic version, with ISSN 2620-5343 (online) and ISSN 2599-1221(print).
View Journal | Current Issue | Register
Convergence Jurnal Ekonomi Pembangunan
Convergence : Jurnal Ekonomi Pembangunan difokuskan pada penerbitan artikel hasil penelitian di bidang ilmu ekonomi, baik secara teoritis maupun secara empiris yang mencakup bidang ekonomi pembangunan, ekonomi makro, ekonomi mikro, ekonomi industri, ekonomi publik, ekonomi moneter, ekonomi sumber daya alam dan ekonomi regional.
View Journal | Current Issue | Register
1 - 2 of 2 Items