A B C D E F G H I J K L M N O P Q R S T U V W X Y Z All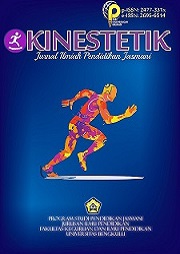 KINESTETIK
Kinestetik merupakan Jurnal Ilmiah Pendidikan Jasmani yang diterbitkan oleh Program Studi Pendidikan Jasmani JIP FKIP Universitas Bengkulu. Jurnal ini mempublikasikan artikel-artikel yang berisi hasil Penelitian, Pendidikan dan Pengajaran dibidang Pendidikan Jasmani. 
E-ISSN:2685-6514
View Journal | Current Issue | Register
Kloropil
Jurnal Agroekoteknologi is a scientific journal that publishes research results related to resource issues and agricultural productivity widely, including Agroecotechnology, Plant Breeding, Soil Science, Plant Protection, and Agricultural Ecology.
View Journal | Current Issue | Register
Konservasi Hayati
Jurnal Konservasi Hayati dikelola oleh Jurusan Biologi Universitas Bengkulu. Jurnal ilmiah Konservasi Hayati memuat artikel yang berkaitan dengan bidang Biologi, baik yang bersifat konsep, teori maupun aplikasi.
View Journal | Current Issue | Register
1 - 3 of 3 Items