A B C D E F G H I J K L M N O P Q R S T U V W X Y Z All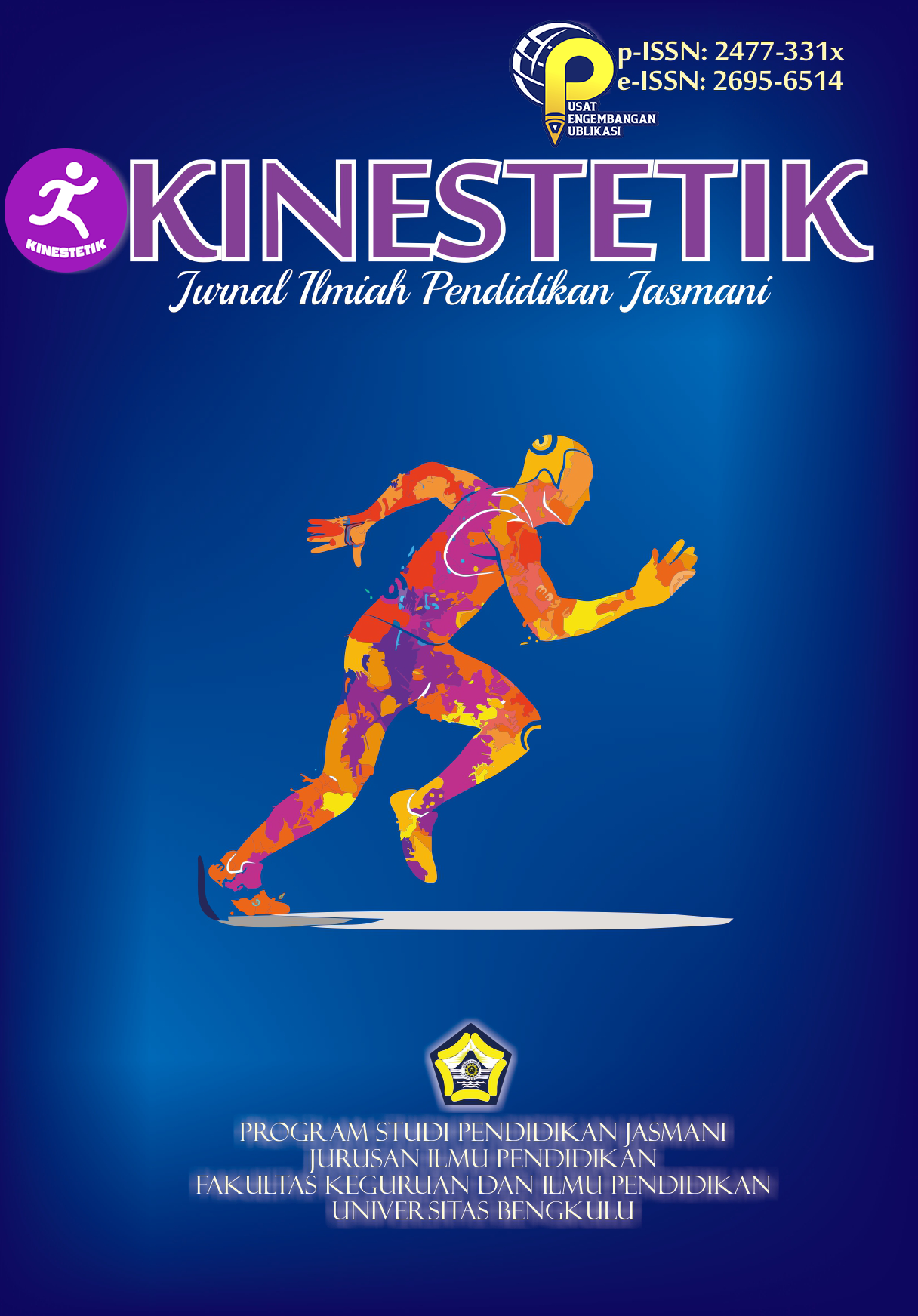 Kinestetik : Jurnal Ilmiah Pendidikan Jasmani
Kinestetik: Jurnal Ilmiah Pendidikan Jasmani by the Program Study of  Physical Education  FKIP University of Bengkulu. The journal of physical education, health and recreation was first printed in March 2013, this scientific journal received writings that had never been published elsewhere. and receive writings on the subject of physical education, sports, health and recreation.  Kinestetik : Jurnal Ilmiah Pendidikan Jasmani with ISSN 2477-331x (printed) and ISSN 2685-6514 (online) has been re-accredited by Indonesian Ministry of Education and Culture decision Number 30/E/KPT/2019 which is valid for five years since enacted on 11 November 2019. This journal is published by UNIB Press
P-ISSN: 2477-331x
E-ISSN: 2685-6514
INDEX BY :
View Journal | Current Issue | Register
Kloropil
Jurnal Agroekoteknologi is a scientific journal that publishes research results related to resource issues and agricultural productivity widely, including Agroecotechnology, Plant Breeding, Soil Science, Plant Protection, and Agricultural Ecology.
View Journal | Current Issue | Register
Konservasi Hayati
Konservasi Hayati Journal (KH) pISSN 0216-9487 and eISSN XXX - XXXX is the official scientific magazine issued by UNIB PRESS, University of Bengkulu, as its contribution to the development of biological science published in Bahasa Indonesia and English which contains the results of research, literature review, field case or idea in the field of biology.
KH first published in 2006 as much as 2 times in one year ie January-June and July-December edition. In 2019, KH began to publish 4 articles in one volume a year in April and October. Special editions in English can be published if necessary.
View Journal | Current Issue | Register
1 - 3 of 3 Items