A B C D E F G H I J K L M N O P Q R S T U V W X Y Z All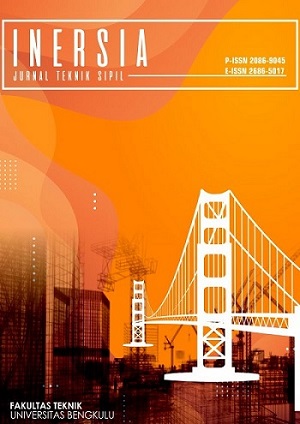 Inersia, Jurnal Teknik Sipil
Inersia merupakan jurnal teknik sipil yang diterbitkan oleh Fakultas Teknik Universitas Bengkulu. Setiap volume terdiri dari dua edisi yaitu edisi nomor 1 untuk terbitan Bulan April dan edisi 2 untuk Bulan Oktober. Jurnal ini menerbitkan hasil – hasil penelitian di bidang Teknik Sipil yaitu Trasnportasi, Sumber Daya Air, Manajemen Kontruksi, Geoteknik dan Struktur Bangunan.
ISSN 2086-9045
View Journal | Current Issue | Register
INTERNATIONAL JOURNAL OF EDUCATIONAL REVIEW
International Journal of Educational Review is published
on 
22 August 2019 with E-ISSN 2685-709X 
and P-ISSN 2685-905X by Study Program Doctor of Education, Faculty of Teacher Training and Education, Universitas Bengkulu, which disseminates the latest research findings from educational scientists in many fields of education. More detail, it focuses on publishing original research of educational management, social studies education, educational technology, natural science education, guidance and counseling, elementary education, linguistics education, early childhood education and mathematics education. It is a biannual journal issued on January and July. The editors welcome submissions of papers describing recent theoretical and experimental research related to (1) theoretical articles; (2) empirical studies; (3) practice-oriented papers; (4) case studies; (5) review of papers, books, and resources.
View Journal | Current Issue | Register
International Science Public Administration Journal
View Journal | Current Issue | Register
1 - 3 of 3 Items