A B C D E F G H I J K L M N O P Q R S T U V W X Y Z All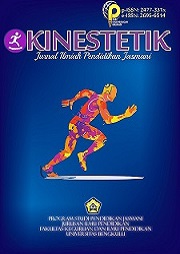 KINESTETIK
Kinestetik: Jurnal ilmiah Pendidikan jasmani by the Program Study of  Physical Education  FKIP University of Bengkulu. This journal publishes articles containing research, education and teaching results in the field of Physical education, Sports, Health and Recreation.
E-ISSN:2685-6514

INDEX BY :


View Journal | Current Issue | Register
Kloropil
Jurnal Agroekoteknologi is a scientific journal that publishes research results related to resource issues and agricultural productivity widely, including Agroecotechnology, Plant Breeding, Soil Science, Plant Protection, and Agricultural Ecology.
View Journal | Current Issue | Register
Konservasi Hayati
Jurnal Konservasi Hayati dikelola oleh Jurusan Biologi Universitas Bengkulu. Jurnal ilmiah Konservasi Hayati memuat artikel yang berkaitan dengan bidang Biologi, baik yang bersifat konsep, teori maupun aplikasi.
View Journal | Current Issue | Register
1 - 3 of 3 Items