A B C D E F G H I J K L M N O P Q R S T U V W X Y Z All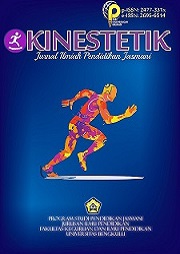 Kinestetik : Jurnal Ilmiah Pendidikan Jasmani
Kinestetik: Jurnal Ilmiah Pendidikan Jasmani by the Program Study of  Physical Education  FKIP University of Bengkulu. The journal of physical education, health and recreation was first printed in March 2013, this scientific journal received writings that had never been published elsewhere. and receive writings on the subject of physical education, sports, health and recreation.  Kinestetik : Jurnal Ilmiah Pendidikan Jasmani with ISSN 2477-331x (printed) and ISSN 2685-6514 (online) has been re-accredited by Indonesian Ministry of Education and Culture decision Number 30/E/KPT/2019 which is valid for five years since enacted on 11 November 2019.
E-ISSN:2685-6514

INDEX BY :
View Journal | Current Issue | Register
Kloropil
Jurnal Agroekoteknologi is a scientific journal that publishes research results related to resource issues and agricultural productivity widely, including Agroecotechnology, Plant Breeding, Soil Science, Plant Protection, and Agricultural Ecology.
View Journal | Current Issue | Register
Konservasi Hayati
Jurnal Konservasi Hayati dikelola oleh Jurusan Biologi Universitas Bengkulu. Jurnal ilmiah Konservasi Hayati memuat artikel yang berkaitan dengan bidang Biologi, baik yang bersifat konsep, teori maupun aplikasi.
View Journal | Current Issue | Register
1 - 3 of 3 Items